[metaslider id="1128″]
From Bangkok to Southern route (Samut Songkram Province)the "Mae Klong Railway Market (Talad Rom Hoob)" is a local market in Samut Songkhram Province, commonly called Siang Tai (life-risking) Market. The interesting of tourists for this visiting will be taken once the train to come to a standstill at the station either once the train will depart from the station, all merchants will immediately move their goods from the railway road area and back again later.
It is considered one of the amazing-Thailand attractions in the province. Spreading over a 100-meter length, the market is located by the railway near Mae Klong Railway Station, Muang District, Samut Songkhram Province. It is a common fresh market selling seafood, vegetable, fruits, fresh and dried food, meats and other miscellaneous goods.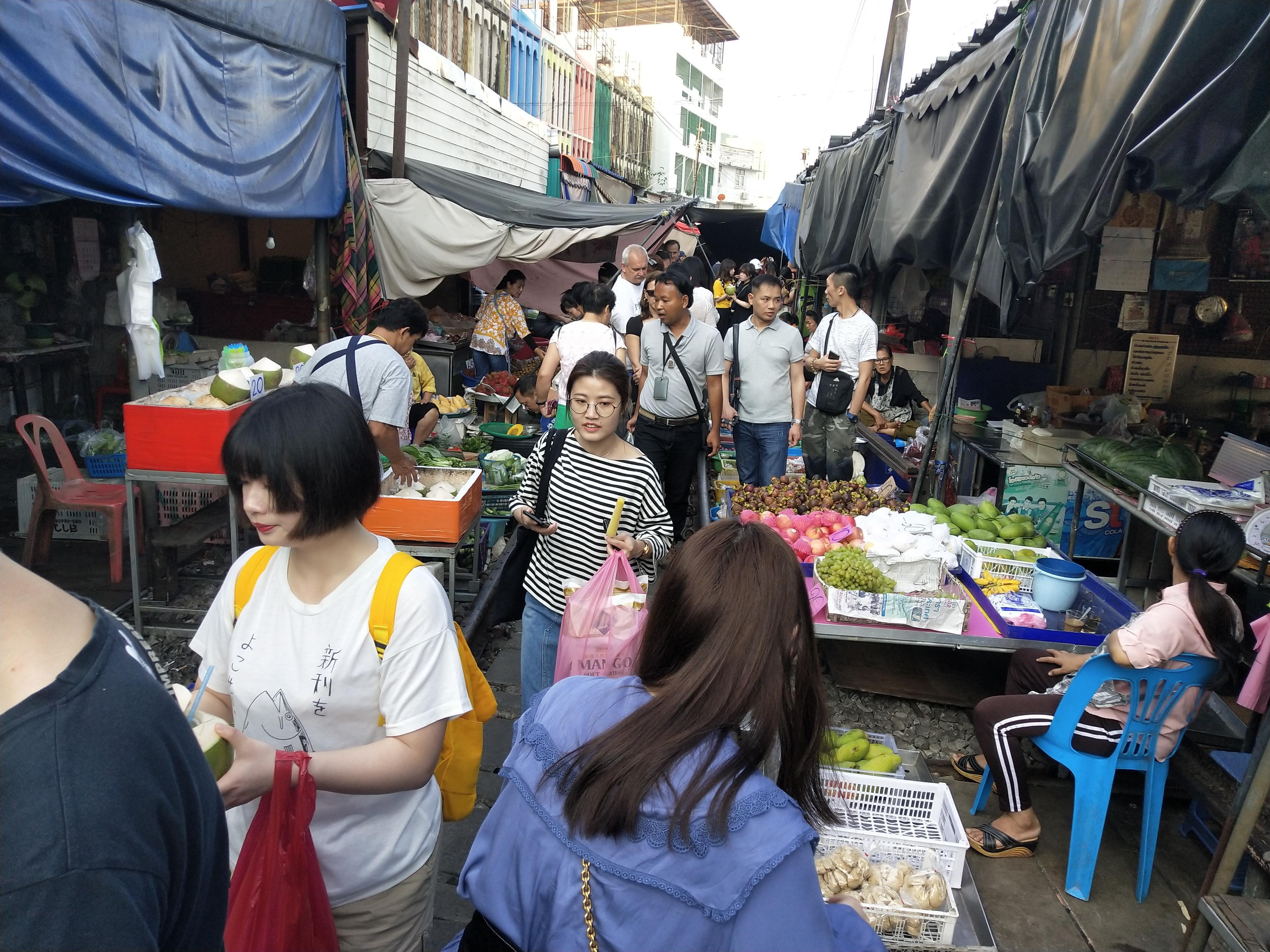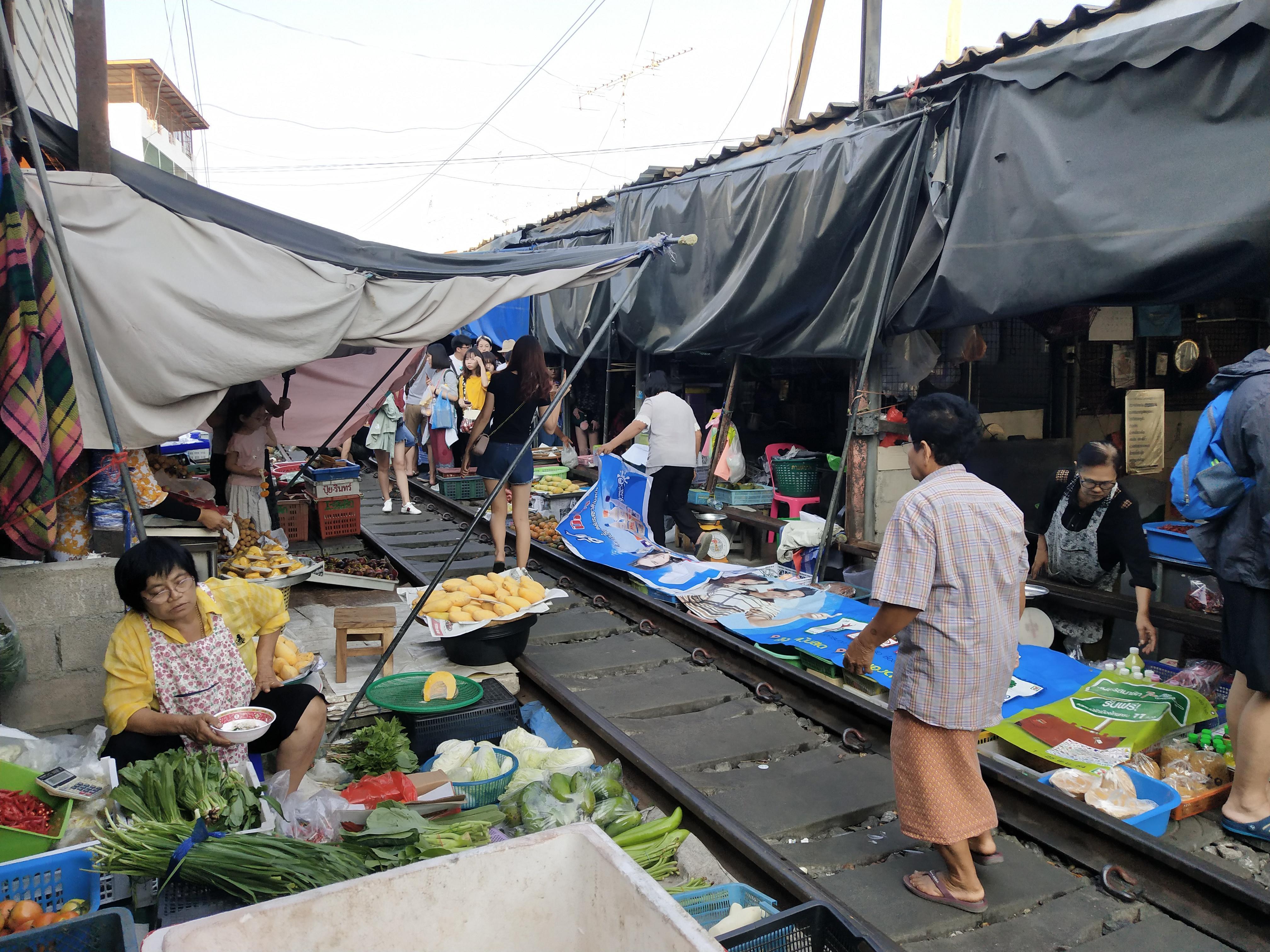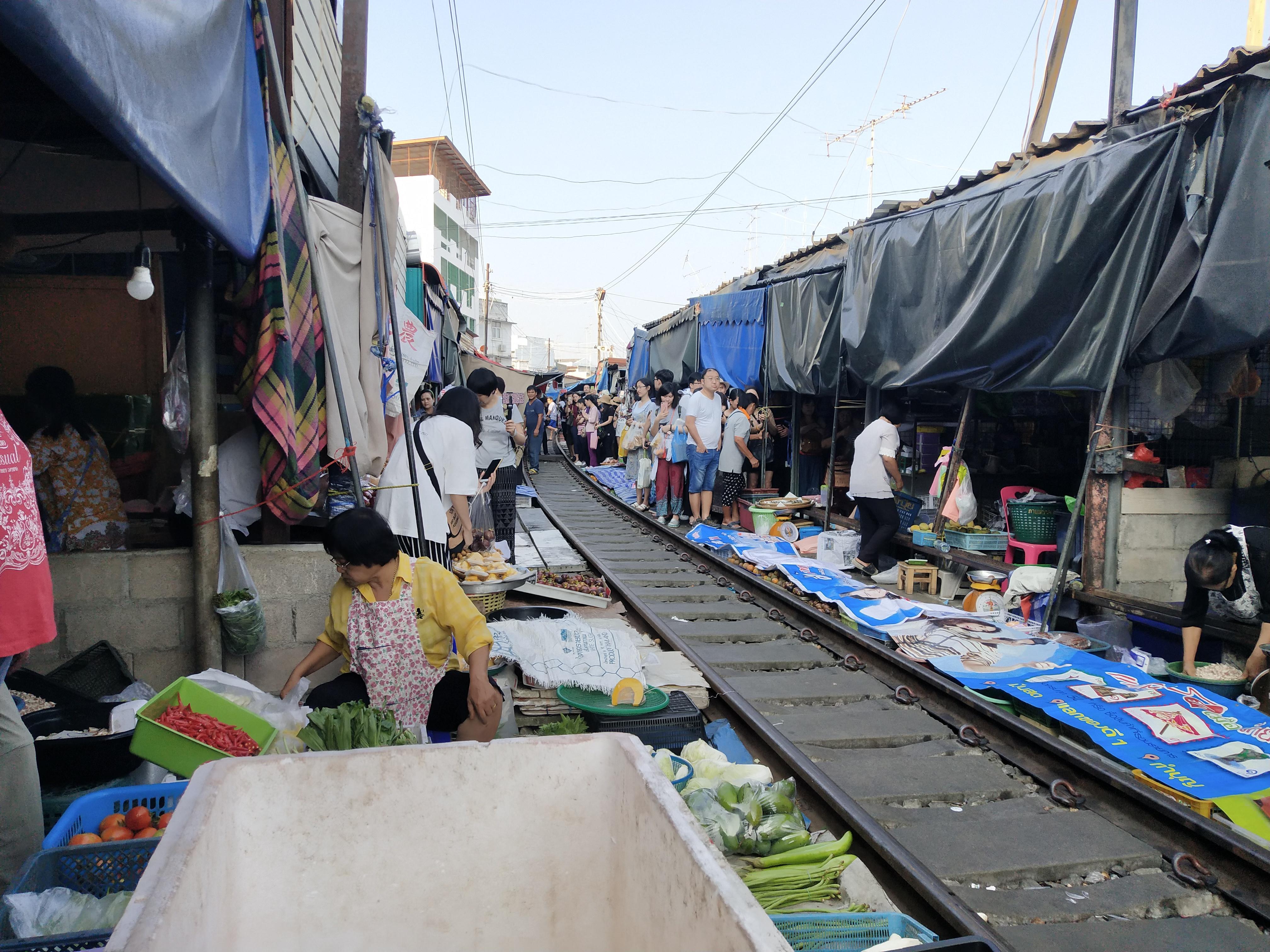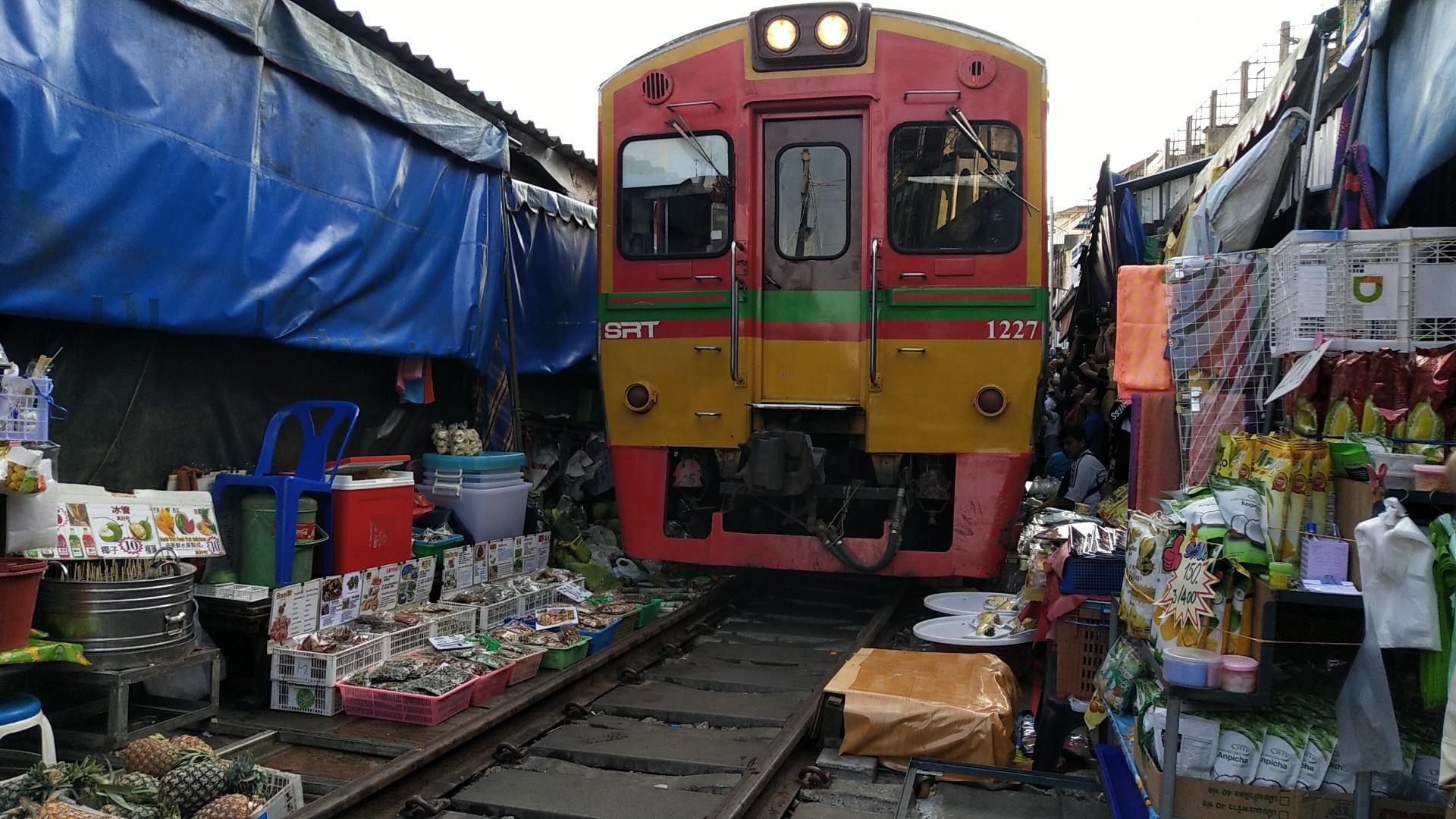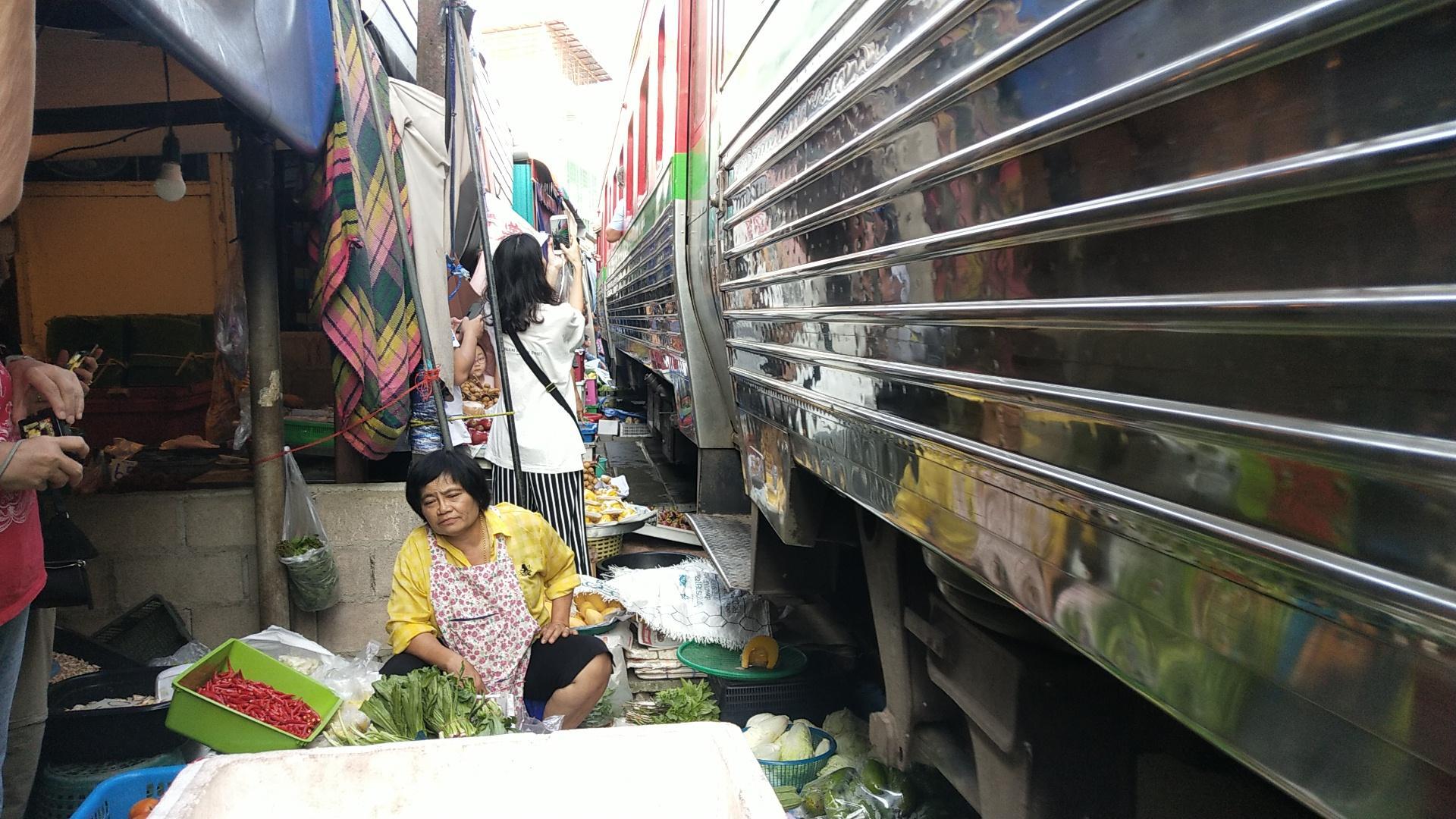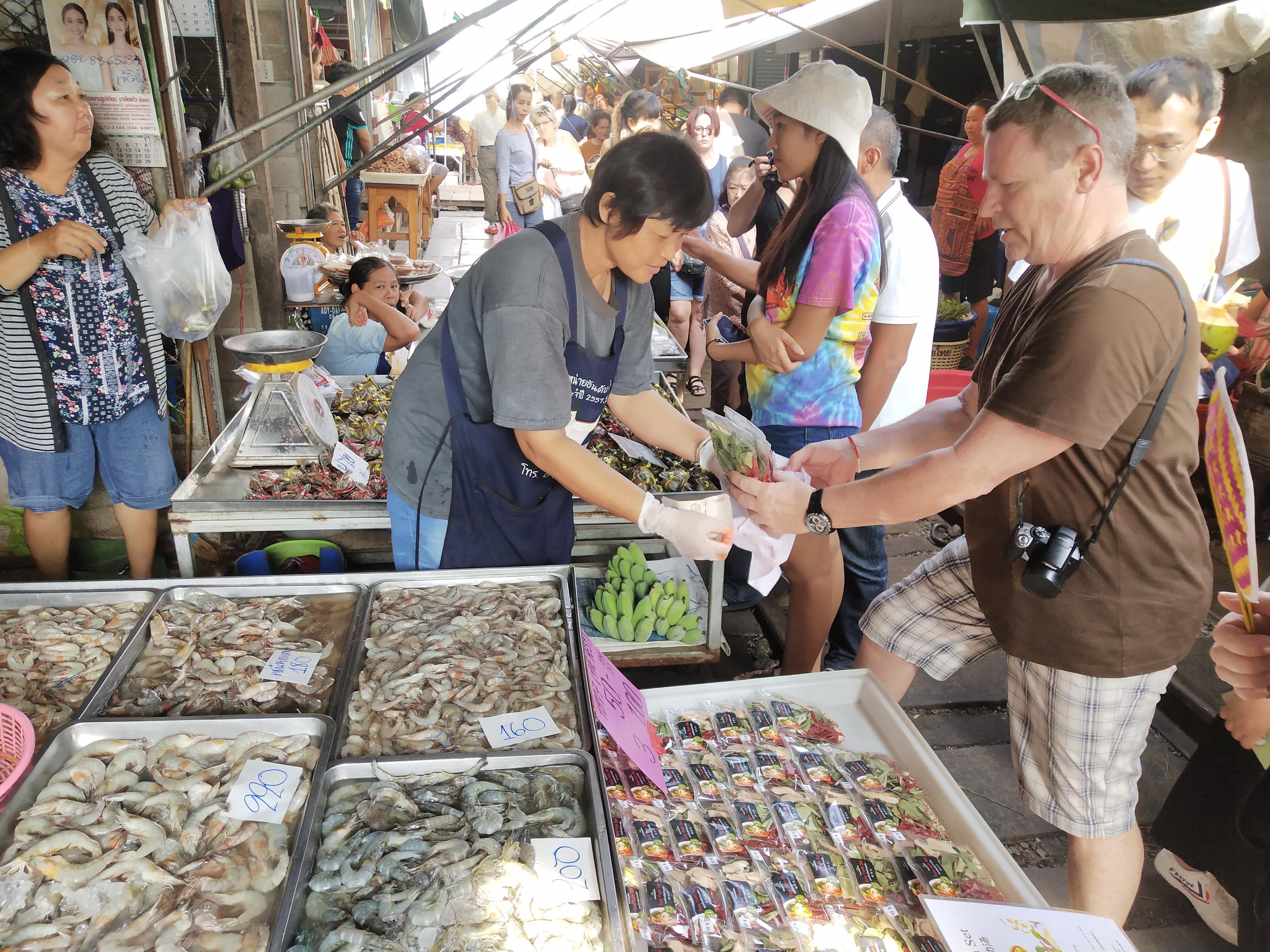 Mae Klong Railway Market is open from 6.00 a.m. -6.00 p.m. The market is called 'life-risking' market because its stalls are attached to the Mae Klong-Ban Laem railway, which is a short railway line running from and to Mahachai and Mae Klong. Vendors at the market put out parasols or canvas to protect themselves against the sun. The shelters stick into the railway where visitors walk and do their shopping.
When each signal of the arriving train rings, chaos happens: vendors will rush to close their parasols and canvas, along with clearing all goods that will obstruct the coming train at a great speed. Once the train passes, parasols and canvas will be reopened as goods are again put into their usual place next to the railroad.
The market, accordingly, is so-called "Hoop Rom (umbrella/parasol-closing) Market". The practice is usually for vendors and local people, but not for tourists who will definitely find the scene exciting and enjoyable at each visit.
Not only seafood, vegetable, fruits, fresh and dried food, meats, can find in this area. For the people who love street food, they will find many foods especially "Thai Dessert".
Thai dessert in Thai call "Kha-Nom" mostly made of flour, fruit, coconut milk, and indispensable is sugar.
On our tour, we will recommend 3 popular Thai Dessert for our guest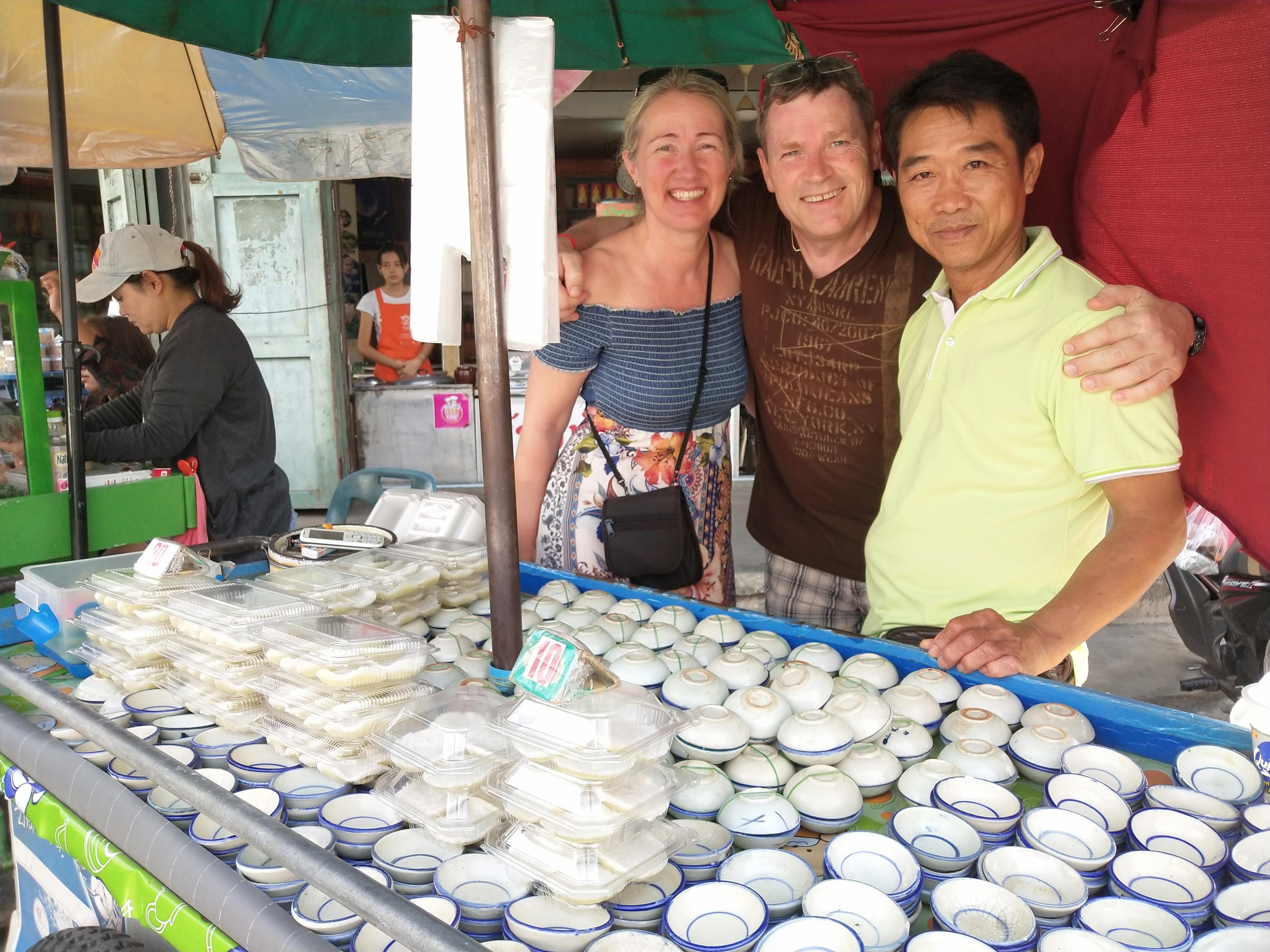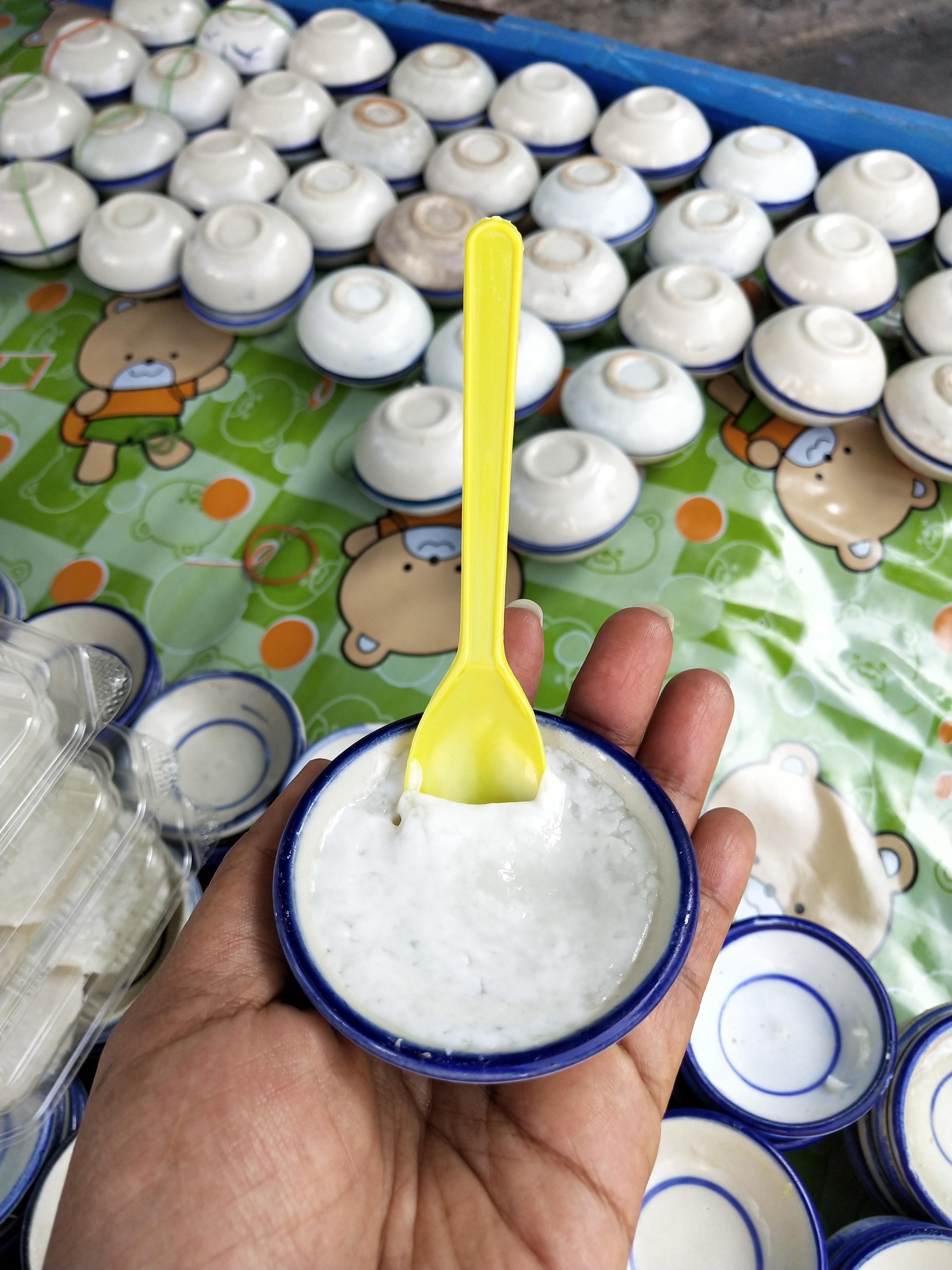 Khanom Thuai or Thai Coconut Milk Custard


Thai traditional dessert with 3 main ingredients flour, coconut milk, and palm sugar. … There are two parts of flavor, sweet flavor from pandan juice and saltiness from coconut milk. – see how to cook

click!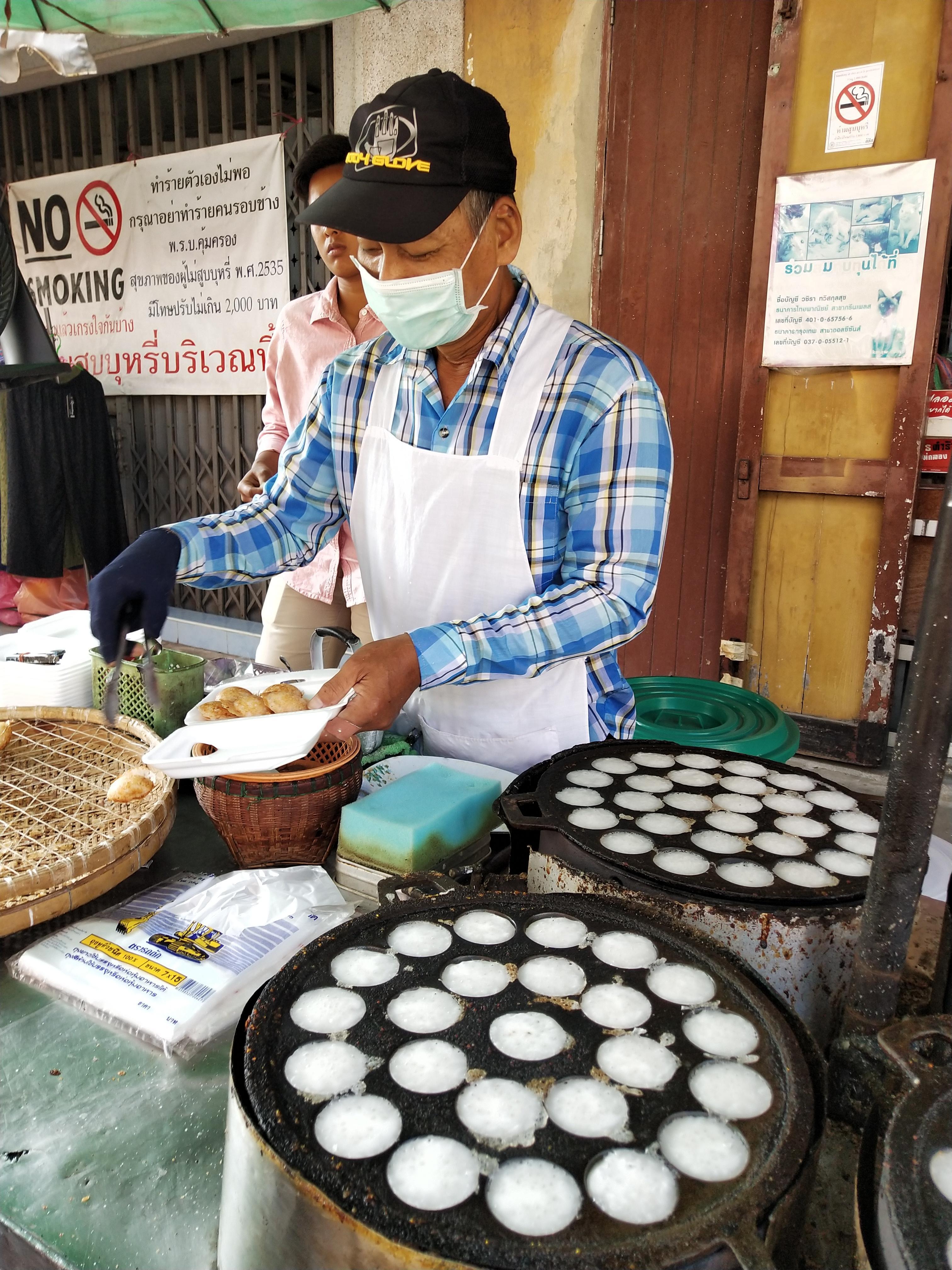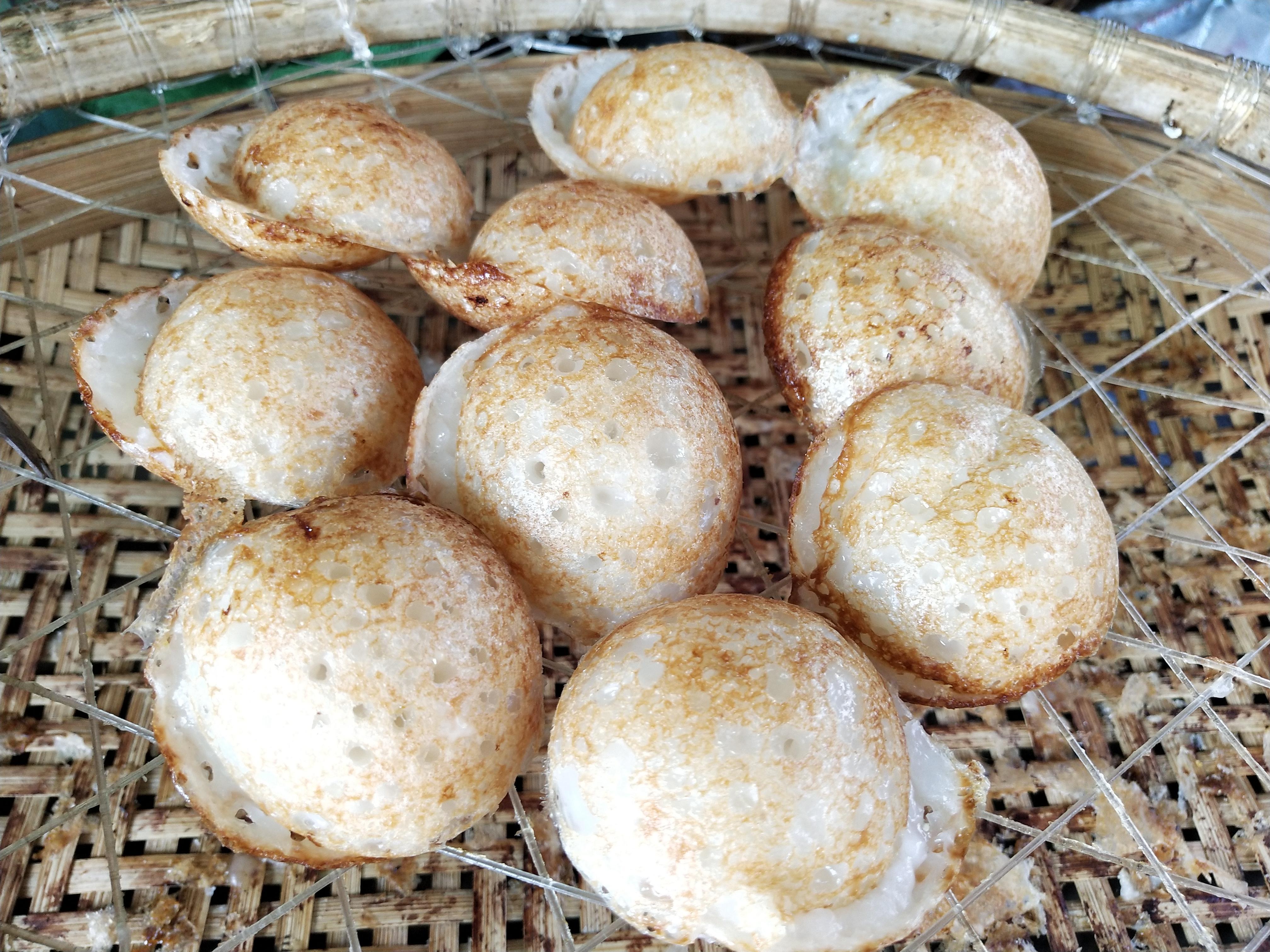 2. Khanom – Krok, is kind of Thai sweetmeat
Krom Krok is an ancient Thai dessert. Made from flour, sugar and coconut milk Then pour on the pit Time to eat must pick out. Is a circular sheet And often put together when eating.
3. Kanom Gluay or Steamed Banana Cake
Raw material with a cup of rice flour, a cup of starch, 2 cups of cooked banana,1/2 cup grated taro,1/4 cup boiled barley a cup coconut milk, Grated coconut 1/2 cup, 3/4 cup sugar,1/2 teaspoon salt
Before leaving, we will visit Palm Sugar Factory to see, how does the palm sugar make from. Before use for our Thai Dessert.
The sap used to produce palm sugar, the coconut palm (Cocos nucifera) yields coconut palm sugar from the sap of its flowers.
Palm sugar is a sweetener that is made from the sap present in the flower buds of the coconut palm tree. … The sugar has a mild caramel flavor and in its liquid form resembles honey whereas, in the granular state, it is not much different in taste as compared to white sugar.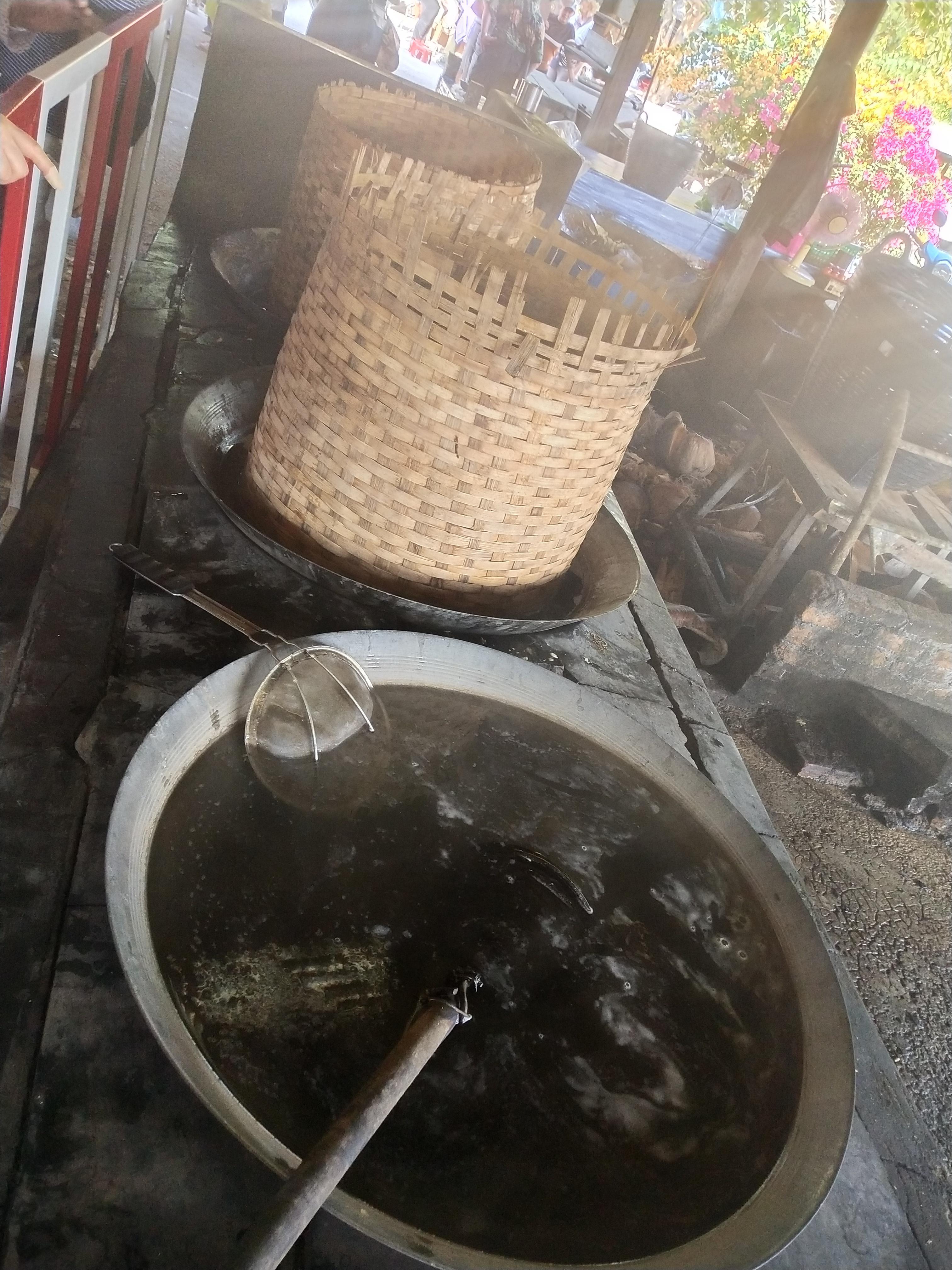 Yields coconut palm sugar from the sap of its flowers.
Coconut sugar is also called coconut palm sugar. It's a natural sugar made from coconut palm sap, which is the sugary circulating fluid of the coconut plant.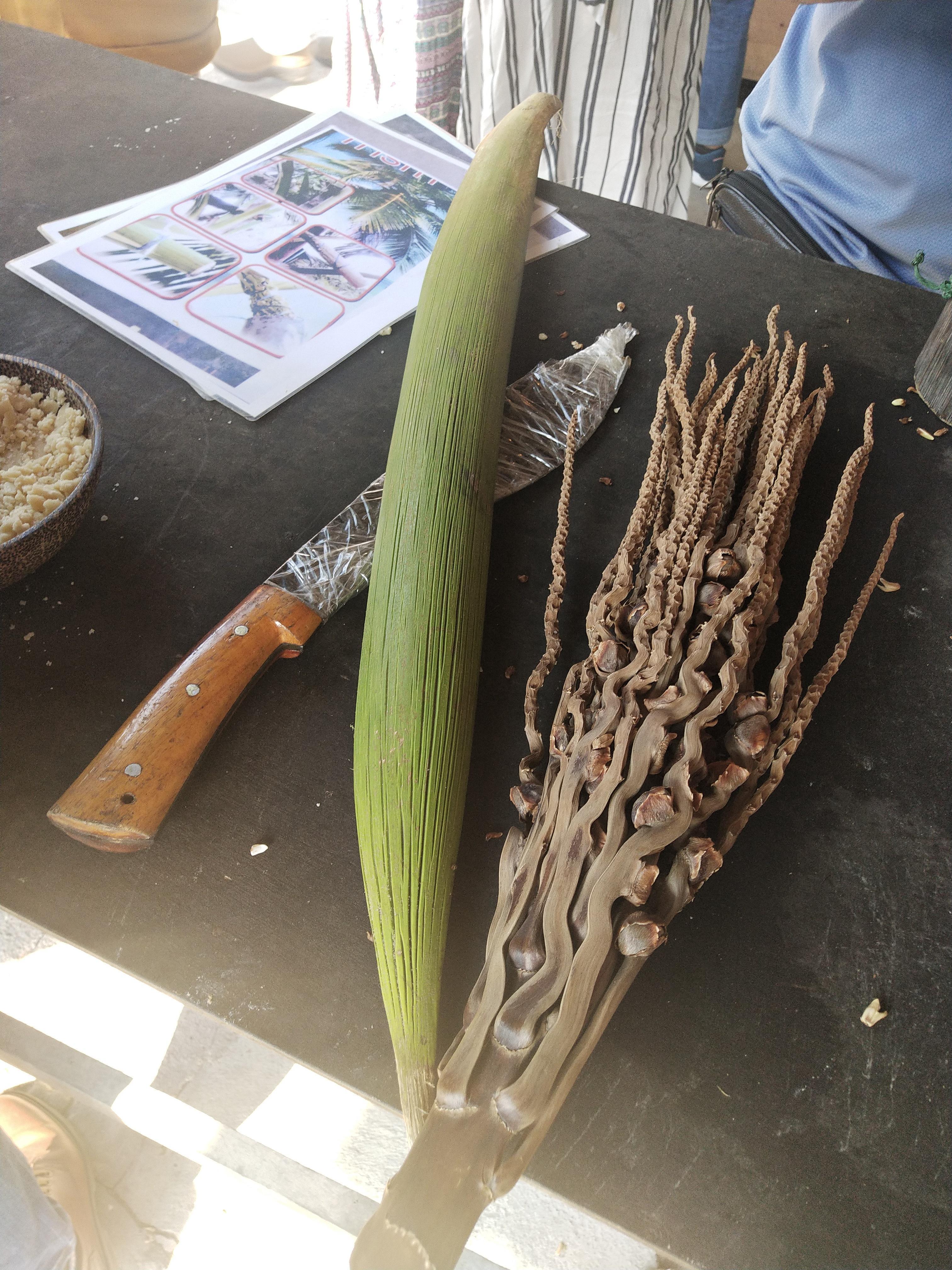 Coconut flowers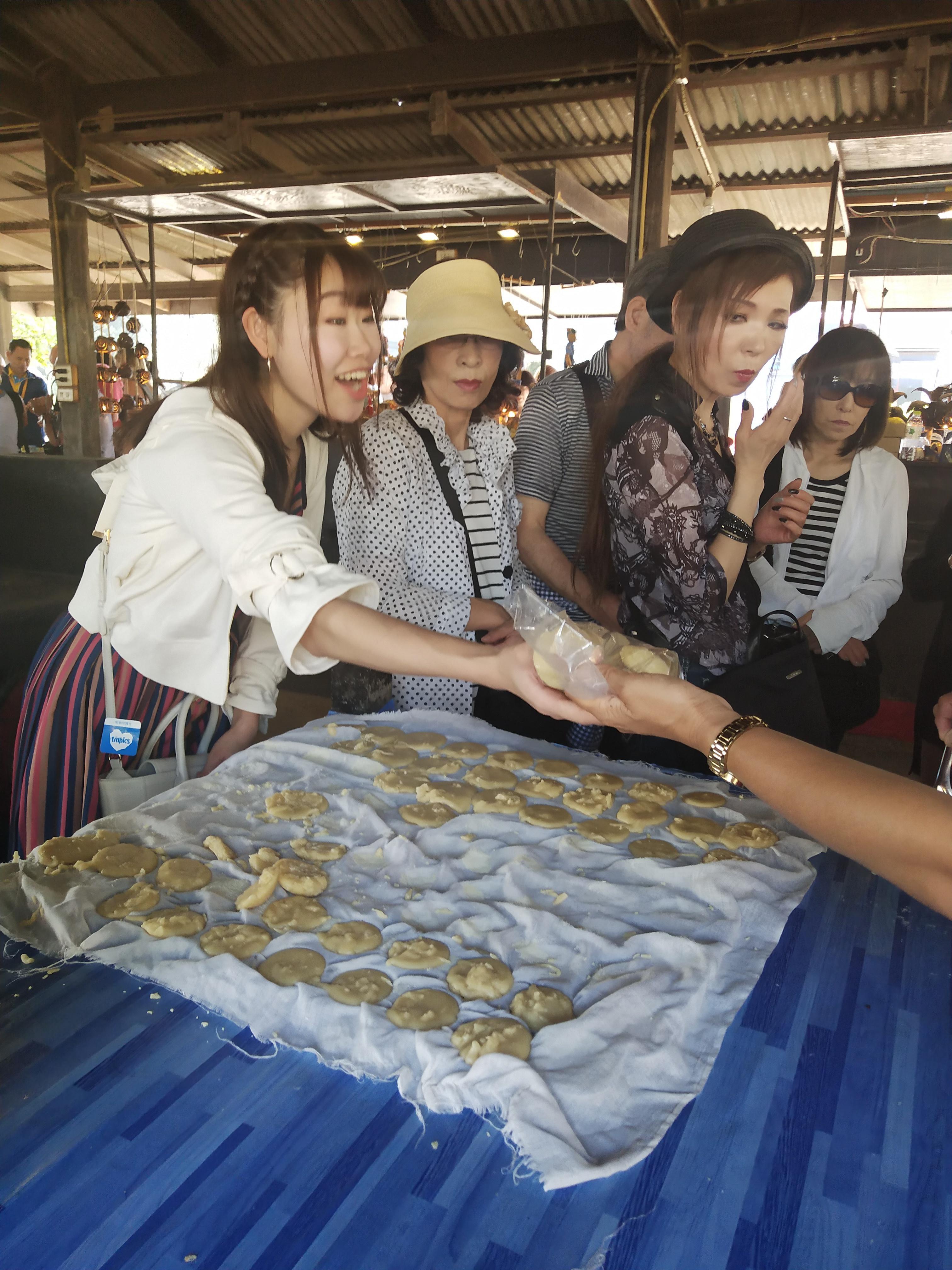 Thai Dessert use Coconut palm sugar instate of cane sugar for most baking purposes. It is less sweet than cane sugar but more flavorful, with a molasses-like flavor similar to brown sugar, and in many cases, the quantity of sugar can be reduced by up to 25 percent without altering the end result.
Coconut trees besides fruiting can be eaten. The trunk can also be modified into other products.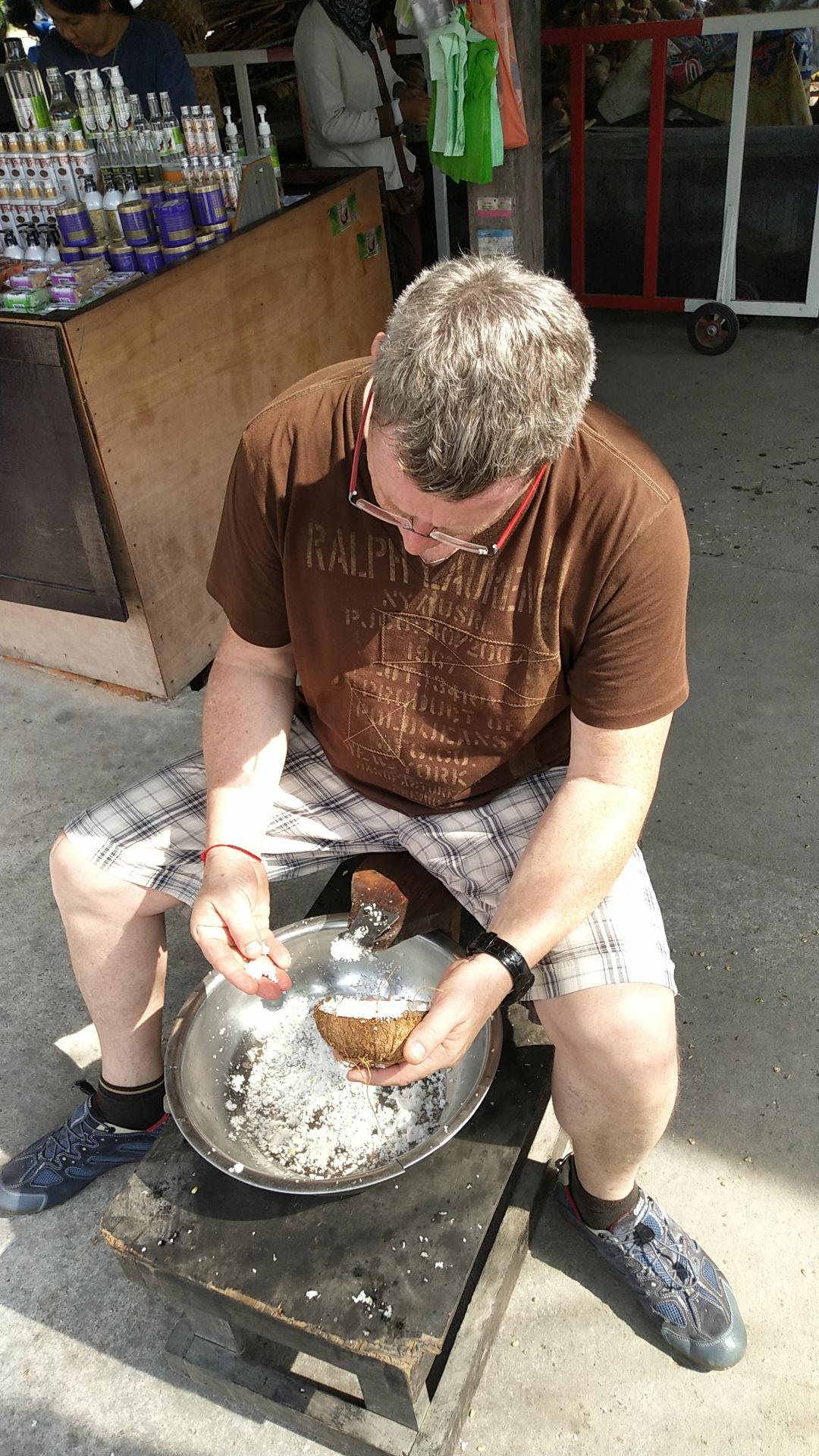 When arriving at the coconut sugar factory In addition to seeing how to make coconut sugar You can also learn to make coconut milk from coconut meat as well.
Ready to join our trip for a half day tour click!
Recommended to join our 3 days tour include Mae Klong Railway Market click!