South Thailand Tour 10 Days
Day 1 : Bangkok – Songkla – Satun
Flight to Songkla 08.30-10.05 am
Arrived at Songkhla around 10.05 am.
11.30  Early Lunch at "Khao Mankai Hadyai" is one of the most popular Thai dishes in Thailand
12.30  Go to Songkhla mosque which is the biggest in Thailand as the Taj Mahal model and go to Samila beach to see the symbol of the town a bronze mermaid.
13.30  Songkla Old Town, There are Chinese row houses, Chino-Portuguese classical Buildings, The spirit house of Guan Yu, Nang Ngam Hotel (the hotel of the beauty queen), and ancient wooden hotels decorated with an exquisite wooden-engraved pattern, including Hokkien Chinese row houses mingled with other buildings along both sides of the road. Some buildings were renovated by newly painted; however, they were not changed in structure, reflecting the important city in terms of politics and economy dating back to the Thonburi Era. Moreover, it is the town next to the sea leading to being influenced by the culture of various races mixing with the specific culture of Songkla.
16.00  Folklore Museum The Institute for Southern Thai Studies, Thaksin University
17.00  Dinner at Koh Yor (Recommend but not include)
18.00  End of the tour transfer to hotel and Overnight
Overnight: Centara Hotel Hat Yai
Meal: Lunch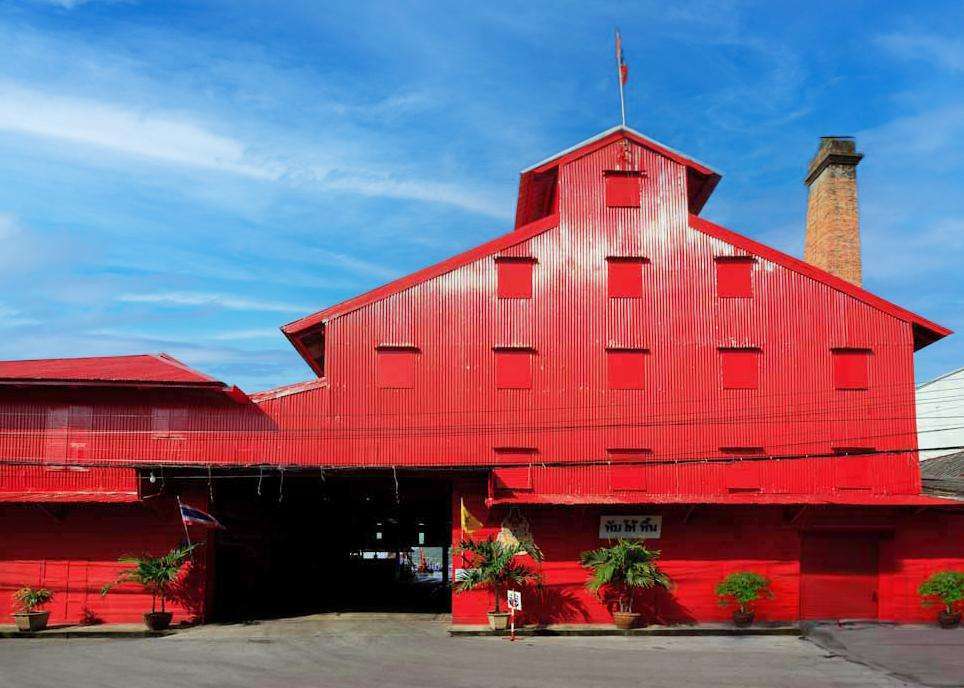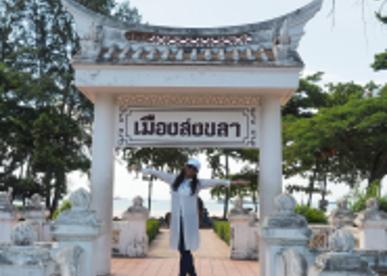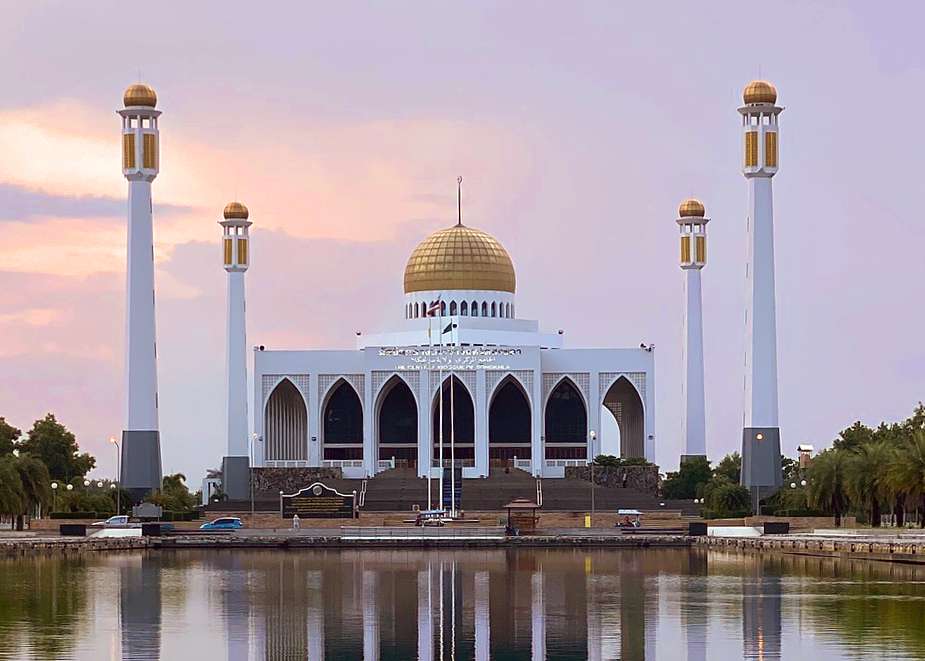 Day 2 : Satun
After Breakfast drive to the pier to take a local longtail boat, first visit "Sanlang Mangkon" (สันหลังมังกร), a tombolo or a strip of sand dune-shaped like a dragon's spine, is a natural phenomenon amidst the Andaman sea that will appear when the tide recedes. The sand dune originated from the deposits of over a million seashells that formed a meandering path. Next to "The Prasat Hin Pun Yod" sinkhole is a series of limestone spires just off the Satun mainland that makes for a superb kayaking trip. This natural attraction is the result of millions
of years of erosion and looks like a jagged rocky castle protruding out of an emerald sea. After the boat trip (around 5 hours)                  
Overnight: Seesea Resort
Meal: Breakfast + Lunch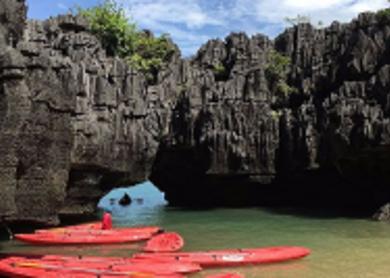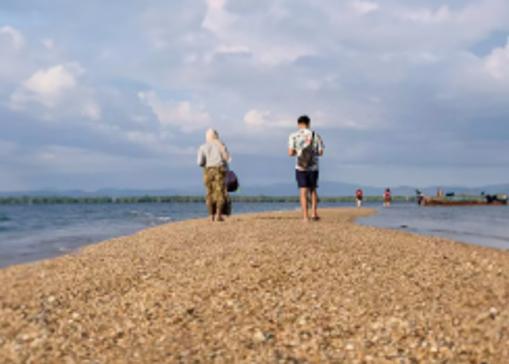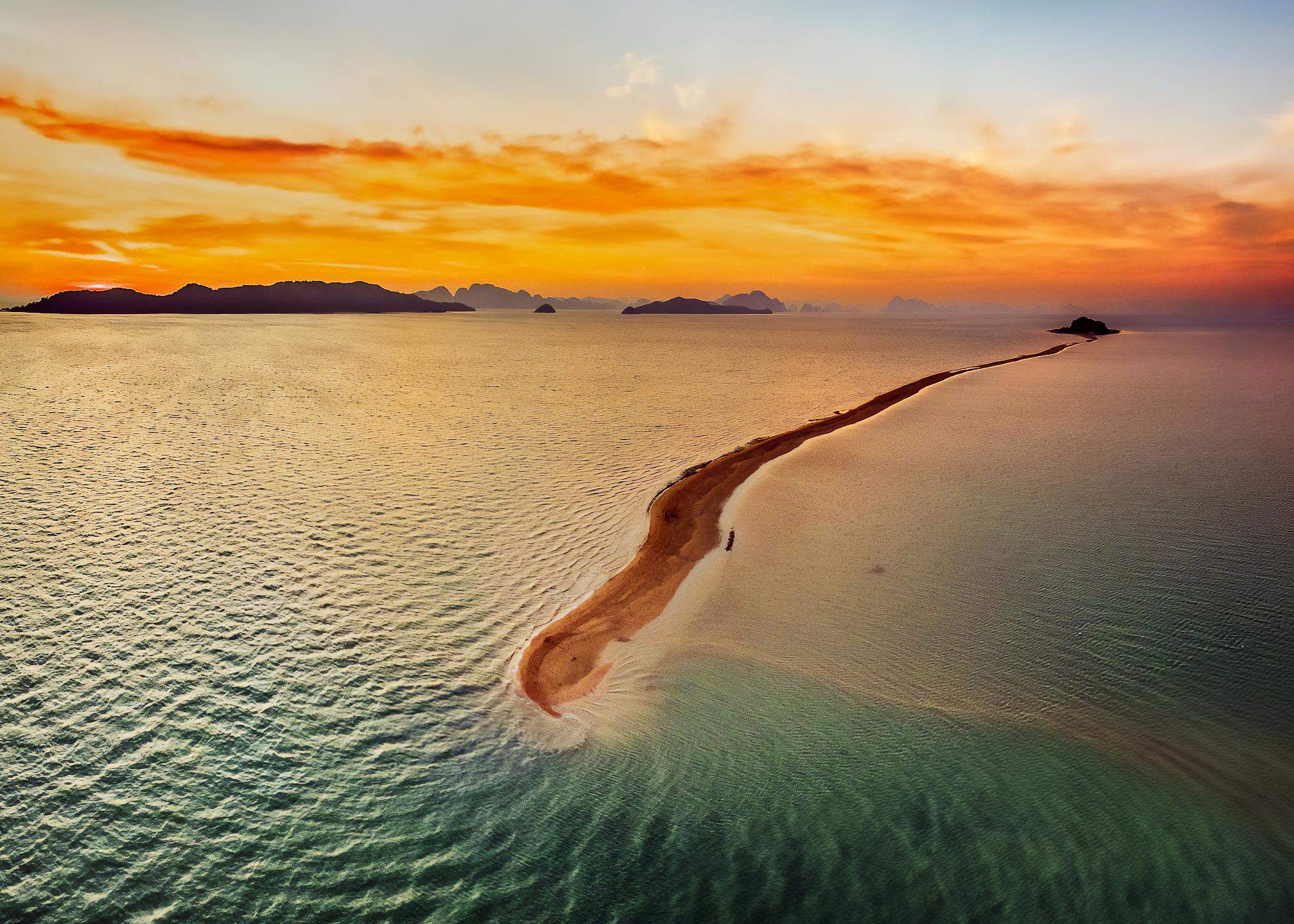 Day 3 : Satun – Trang – Talay Noi
After Breakfast drive to visit "Tham Le Stegodon"
Tham Le Stegodon (ถ้ำเล สเต โกดอน) is a Cave in the elongated limestone mountain ranges that are characterized as a tunnel inside the mountain with a 4-kilometer distance extending from the cave's mouth to the end. Inside the meandering cave were found elephant and rhino fossils from the Pleistocene Era. For sightseeing, visitors are required to kayak into the tunnel accompanied by the Park officers and villagers. The tour takes about two hours, then continue to the "Treetop walk at Thung Khai Botanical Garden"
"Treetop walk at Thung Khai Botanical Garden", is a new tourist destination for those interested in the study of nature and flowers. Featuring a botanical Garden, a herbal garden, a botanical library, a plant museum, and a technical meeting center, the highlight is actually the Canopy Walkway, which is a 175-meter-long walking trail into a lowland jungle, spanning 3 levels of heights (10, 15 and 18 meters) and five boardwalks. For real fun, follow signs for "canopy walk" as they lead you deeper into the jungle. Seemingly out of nowhere, the first of six red steel "canopy stations" appears like the gate to a hidden
treehouse village. Leave your acrophobia behind and start the climb. Constructed in 2003, the five narrow suspension bridges are connected by observation towers with staircases that each lead higher than the last. The first walkway is only 10 meters off the ground, but further on they ascend to 18 meters — high enough to spot bats and birds on the treetops. End of work drive to Talay Noi
Overnight : Sripakpra Boutique Resort, Phatthalung
Meal: Breakfast + Lunch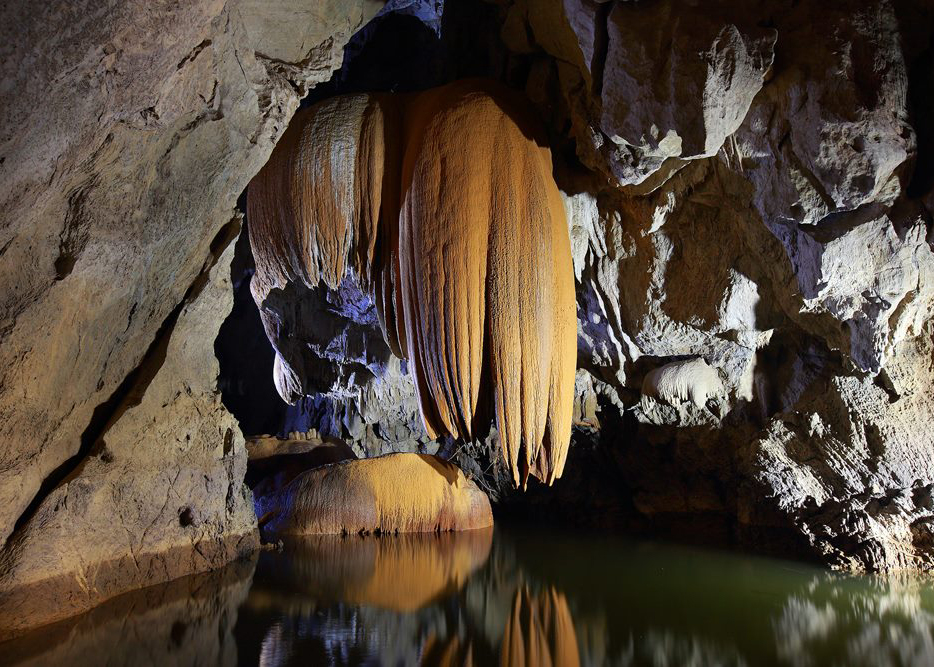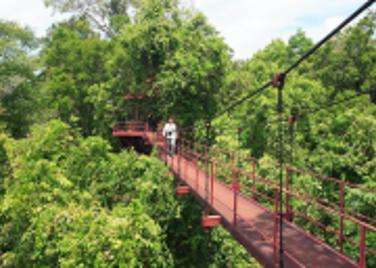 Day 4 : Thaley Noi – Pag Phanang – Nakorn Sri Thammarat
 "Talay Noy", the name translates as the small sea. One of the most biodiverse sites in Thailand, Thale Noi is a vast freshwater lagoon located in the southern Thai province of Phatthalung just to the north of Songkhla Lake. The wetlands are home to more than 280 species of aquatic birds with some staying here all year round. The number of birds at Thale Noi swells in the summer months with hundreds of thousands migrating to the Phatthalung wetlands to feed on the floating marshes and carpets of lotuses and water lilies. Thale Noi is a globally important wetland site (Ramsar site) and is a must-visit attraction for birdwatchers and anybody interested in nature.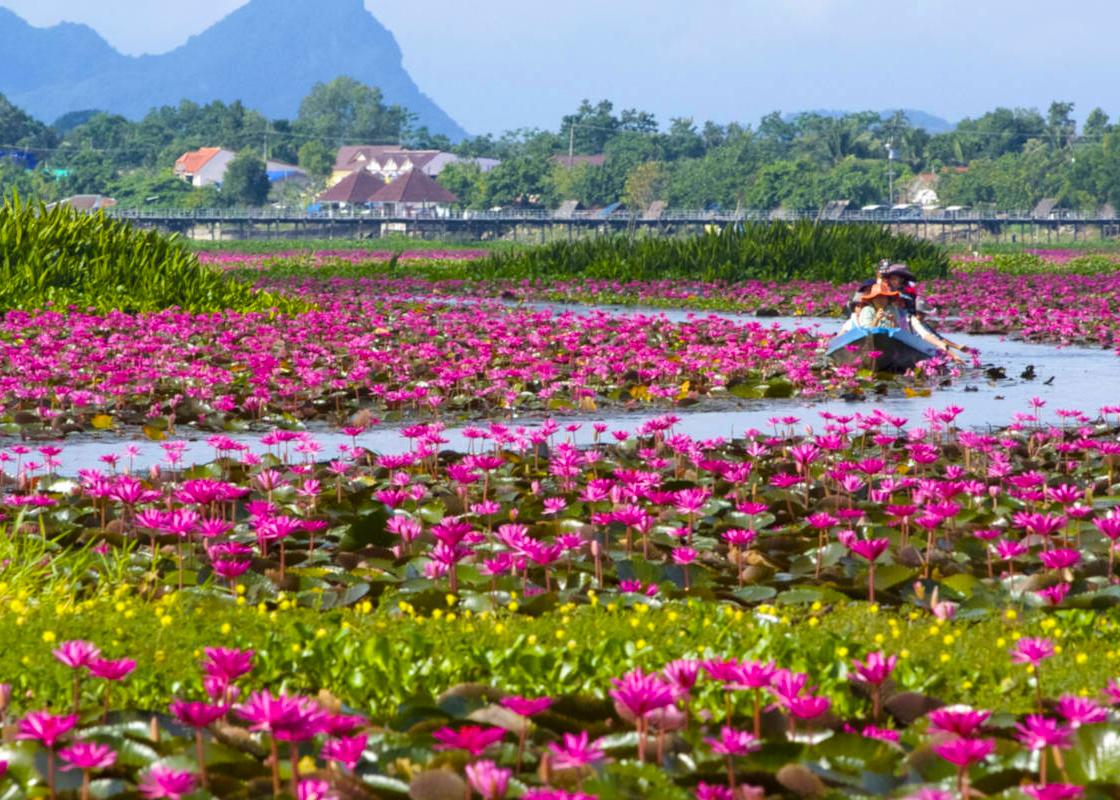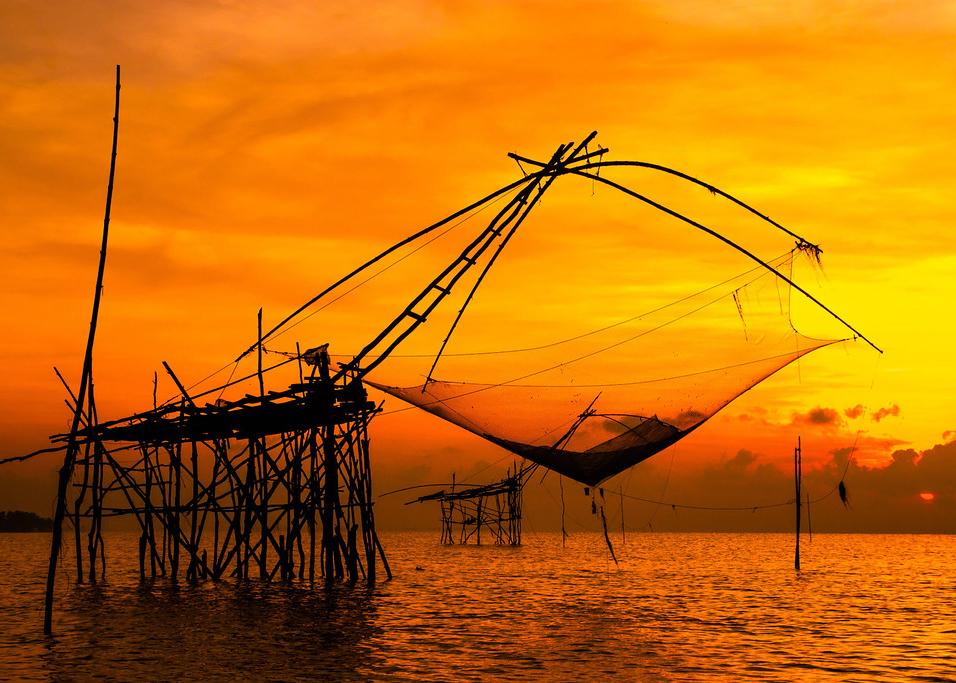 Talat Roi Pi Mueang Pak Phanang(100 Years Old Pag Phanang) is an old wooden market over 100 years old with a simple and natural way of life, selling local food and desserts; such as Khanom La, Man Khi Nu (Hausa potato), tiger nut, fresh seafood, as well as dried mullet, which is a famous product and souvenir of Pak Phanang. After a visit take a ferry to Baan Kanom La(Hoi Rag) "Ban Si Sombun (Hoi Rak)" Also known as "Khanom La Village", Ban Si Sombun was once known as "Ban Hoi Rak" and is a community famous for making Khanom La. Khanom La is a traditional dessert of the Southern region and is a famous product of Nakhon Si Thammarat province. It is made by mixing rice flour and sugar together and then pouring the flour using containers with many holes into the pan that is thinly covered by egg yolk to create a golden web and then folding the web into a roll. Khanom La is one of the five desserts used during the Festival of the 10th Lunar Month. A visit to Ban Si Sombun village allows visitors to observe the making of Khanom La as well as purchase the product.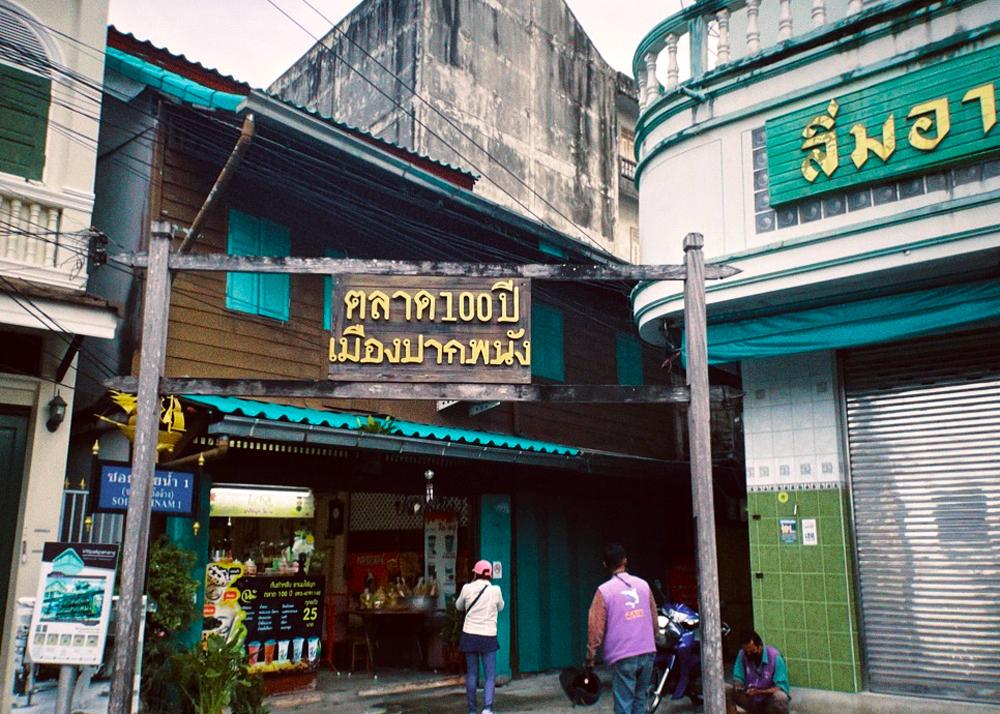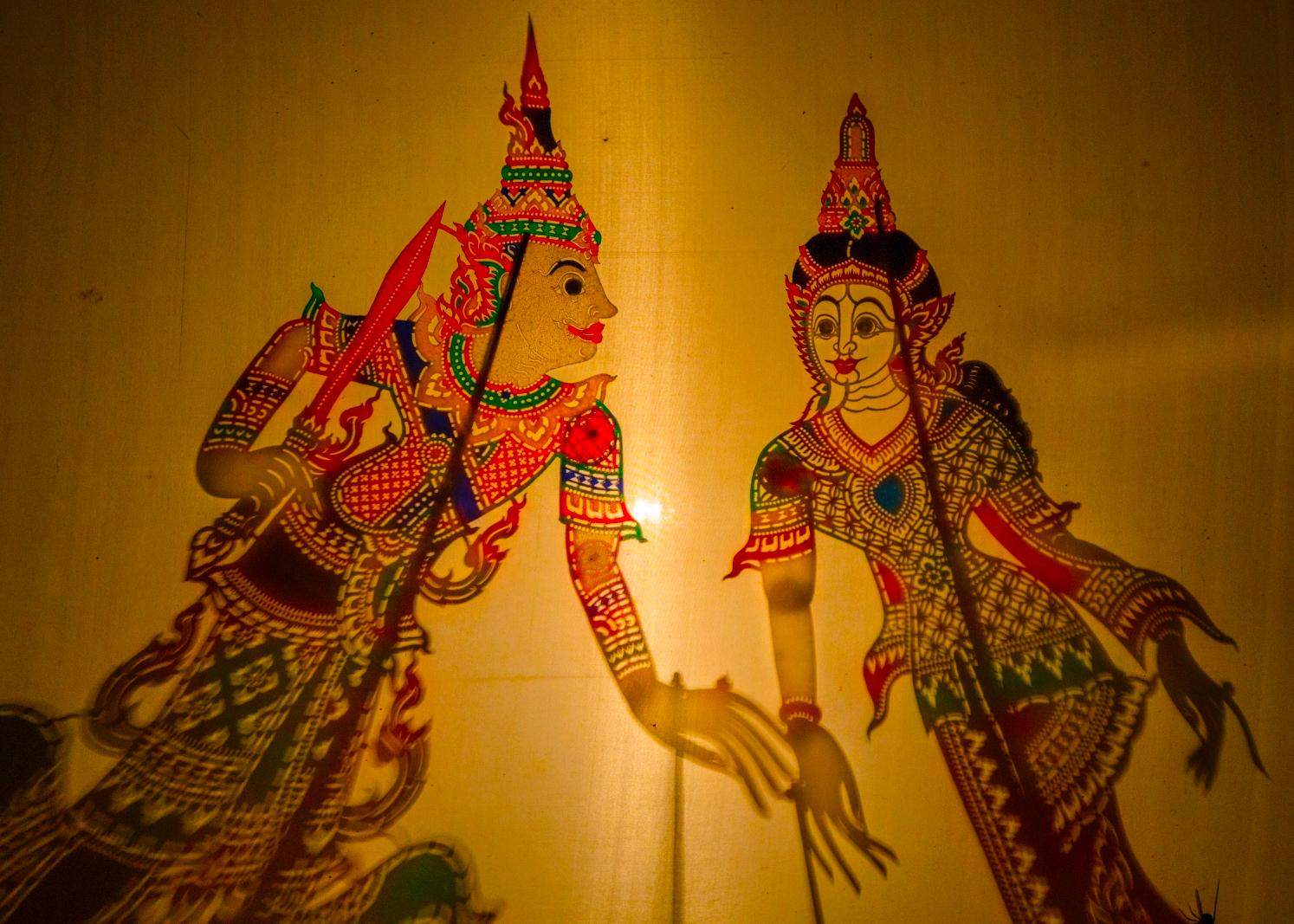 Talung Folk Museum "BAN NANG TALUNG SUCHART SUBSIN", the museum at the home of Suchart Subsin was founded in 1987 by Suchart and his family. The Subsin family has collected shadow puppets from various regions of Thailand and some other countries including China, Cambodia, and India. The award-winning museum has won local and international praise for its role in education and preserving ancient folk arts. Local students regularly visit the museum which has become a source of great pride to the people of Nakhon Si Thammarat. Characters from the nang talung plays have become synonymous with the city and depictions of them can be seen in various locations around Nakhon Si Thammarat and on souvenirs from the area.
"Wat Phra Mahathat Woramahawihan" is a royal temple of the first class. Formerly named Wat Phra Borom That, this temple is one of the most important historical sites in Thailand. According to the legend of Phra Borom That Nakhon Si Thammarat, Prince Thanakuman, and Queen Hem Chala took Buddha relics to Hat Sai Kaeo and built a small
pagoda to mark the location. Afterward, King Si-Thamma Sokarat established the city of Nakhon Si Thammarat and built a new pagoda on it. The present pagoda has a distinctive Sri Lankan style. It is 55.78 meters high (measured by the Fine Arts Department during the renovation of the golden top in 1995). The height from the lotus base to
the golden top is 6.80 meters. The top is entirely covered by pure gold. Inside the temple are many edifices especially the royal building which has beautiful architecture from the Ayutthaya period and the Sam Chom building where Phra Si Thamma Sokarat, the Buddha image attired in royal clothes, is housed. There are also the Phra Maha Phinetkrom (the equestrian image) building and the Thap Kaset building. In addition, the Khian and Pho Lanka buildings are used to display artifacts donated to the temple by Buddhists. After the temple takes a short stop for testing the popular local food of Nakorn Sri Thammarat "Kanom Cheen Sen Sod Muang Kon". Continue to "Srichon Community"
Overnight : I Lay Resort & Cafe Sichon Home Stay 
Meal: Breakfast + Dinner
Day 5 : SRICHON – RATCHAPRAPA DAM
After Breakfast, drive around 2 hours to "RATCHAPRAPA DAM AND CHEOW LARN LAKE, Sitting in the heart of Khao Sok National Park, magnificent Cheow Larn Lake is one of the most beautiful locations in Thailand. Ringed by jungle-clad mountains and with vertiginous
limestone karsts and submerged trees breaking the surface of the water, it's a spectacular place to visit. Almost amazing as the scenery is the fact that this massive lake in southern Thailand didn't exist prior to the 1980s. 10 am pick up from Cheow Lan Lake Pier to board your long-tail boat Scenic tour of limestone karst formations on the way to your Rafthouse Check in to the raft house (deluxe or basic bamboo). Enjoy a traditional Thai Lunch prepared with rich southern Thai curries, delicious local vegetables, and fruit for dessert. Afternoon wildlife safari by boat, return to the raft house for a swim, relax, and enjoy the scenery
Overnight: Keereewarin Chiewlarn Resort
Meal: Breakfast + Lunch
Day 6 : RATCHAPRAPA DAM – KHAO SOK
Breakfast at the raft, explore the surrounding area by kayak Checkout from the hotel at 10:30 am, tour ends around noon at the main pier. Lunch at a Local Restaurant then drive to Khaosok for check-in.                                                                                      
Overnight: Khaosok Boutique Camps Resort
Meal: Breakfast + Lunch
Day7 : Tracking at Khao Sok – Over Night Night Khaosok                                                                                      
After Breakfast, enjoy a full day of Khao Sok trekking deep into Khao Sok National Park. As you walk along the path, your guide will give you interesting details on the different kinds of bamboo, orchids, and lianas growing in the park. You can choose from several trekking routes, including a cascading waterfall and sacred swimming pools. On your trek, keep your eyes open to see 3 species of monkeys, giant hornbills, and even gibbons.
Duration: 3 hours of moderate to challenging hiking
Overnight: Khaosok Boutique Camps Resort
Meal: Breakfast + Lunch
Day 8 : Little Amazon – Jams Bond Island (Ao Phang Nga National Park)
Late morning, drive to Takuapa Town, north of Khao Lak. Get on a canoe, rowed by a professional crew, and sail along salt water in the Amazon-like swamp forest swamp "Sung Nae Canal" or so-called "Little Amazon". Get a chance to see reptiles, birds, and spectacular banyan trees. Lunch at a Local Restaurant then drives to Ao Phang Nga National Park) to take a Longtail Boat to "Jams Bond Island"
Overnight : Hotel Gahn Khao Lak
Meal: Breakfast + Lunch
Day 9 : Similan Island
Early Morning, welcomes you on board at the private pier to check in and pick up snorkeling equipment. Depart to Similan Islands by speed boat. Arrive at Similan Islands, first snorkeling and appreciating the underwater world, viewing beautiful fishes and colorful corals at Islands No.5 and No.6.
Take you to Island No.4 (Koh Miang), relaxing at Princess Bay with your own leisure on the beach. Enjoy with quality lunch box set on Island No.4 (Koh Miang). Depart from Island No.4 to Island No.9 (Koh Ba Ngu) for snorkeling at Christmas Point or Namchai bay, the highlighted area where there are attractive coral reefs and a variety of colorful fishes. Take you to visit a Sailing rock which is the landmark of "Similan Island" at Island No.8 (Koh Similan) where you can relax, swim, take pictures, or climb up to a viewpoint on the top of a Sailing rock. Depart from Similan with a smile and impression.
Arrive at the private pier(Tub-Lamu), and transfer back to the hotel.
Overnight : Hotel Gahn Khao Lak
Meal: Breakfast + Lunch
Day 10 : Khao Lak – Phuket
After Breakfast, before leaving from Khaolak you will visit The International Tsunami Museum and then drive to Phuket. Then drive to Phuket to visit Phuket Old Town, Old Town is an area of historical interest in the city of Phuket. The main streets of Old Town are Thalang, Phang Nga, Krabi, Dibuk, and Yoawarat. Old Town is noted for Sino-Portuguese buildings on both sides of the street. Many old buildings have been converted into shops, hotels, restaurants, and museums. After visit drive to hotel.
Overnight: Pearl Phuket
Meal: Breakfast + Lunch