(Guide Judy)_"Flower Market" in Thai called "Pak Khlong Talad", it means "market at the mouth of the canal" and the area originally started as a floating market in the early 18th century (during the reign of King Rama I). Later, in the 19th century, the area became a large fish market. where fish were sent directly from Tha Chin River, Samut Sakon province by Chao Phraya River. Later, it was changed into a market where vegetables, fruits, and fresh flowers were sold(due to unwanted smell)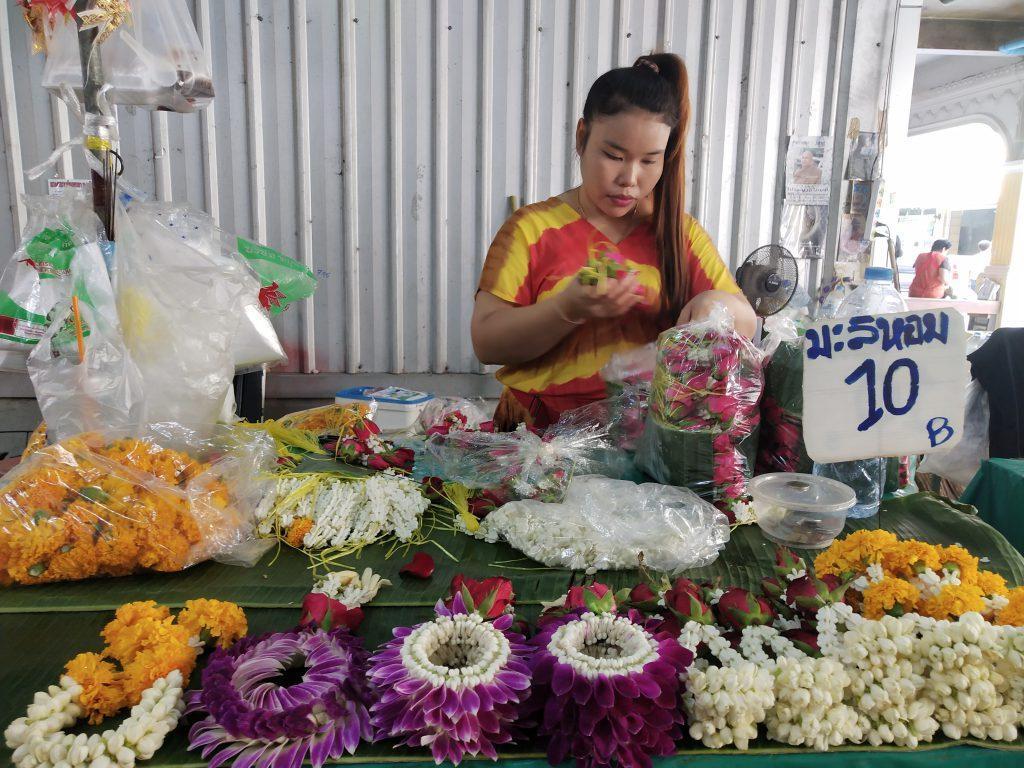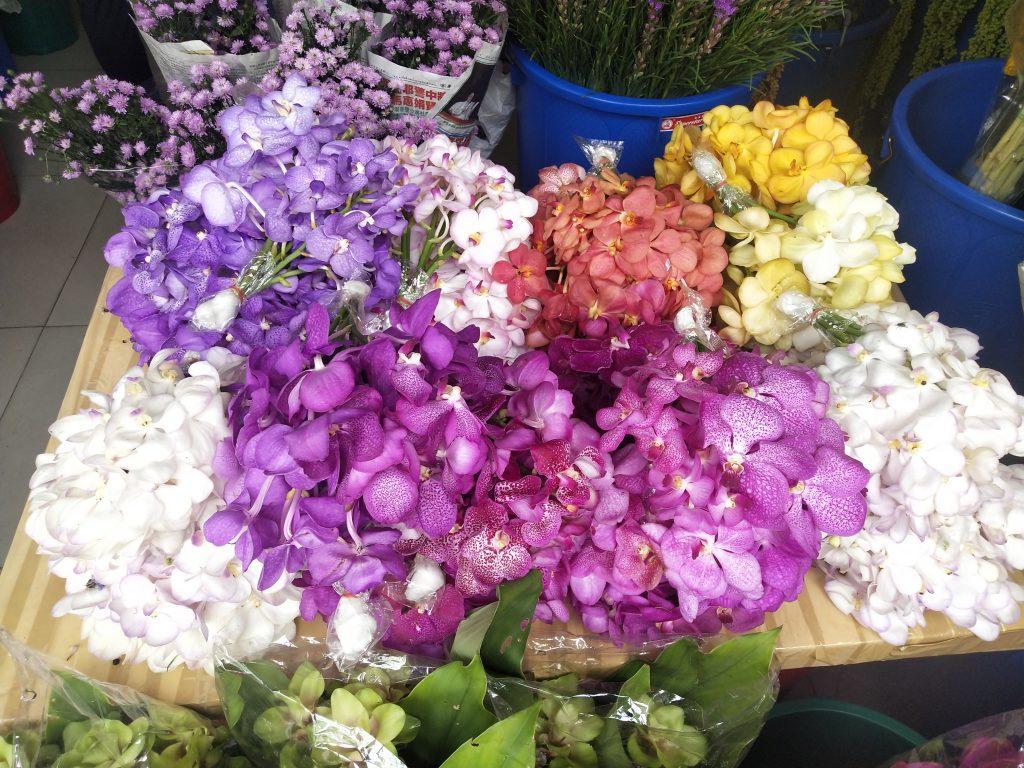 Nowadays, Pak Khlong Talat market consists of four main markets namely;
1.Marketing Organization market, which belongs to the Ministry of the Interior. It was founded in 1953.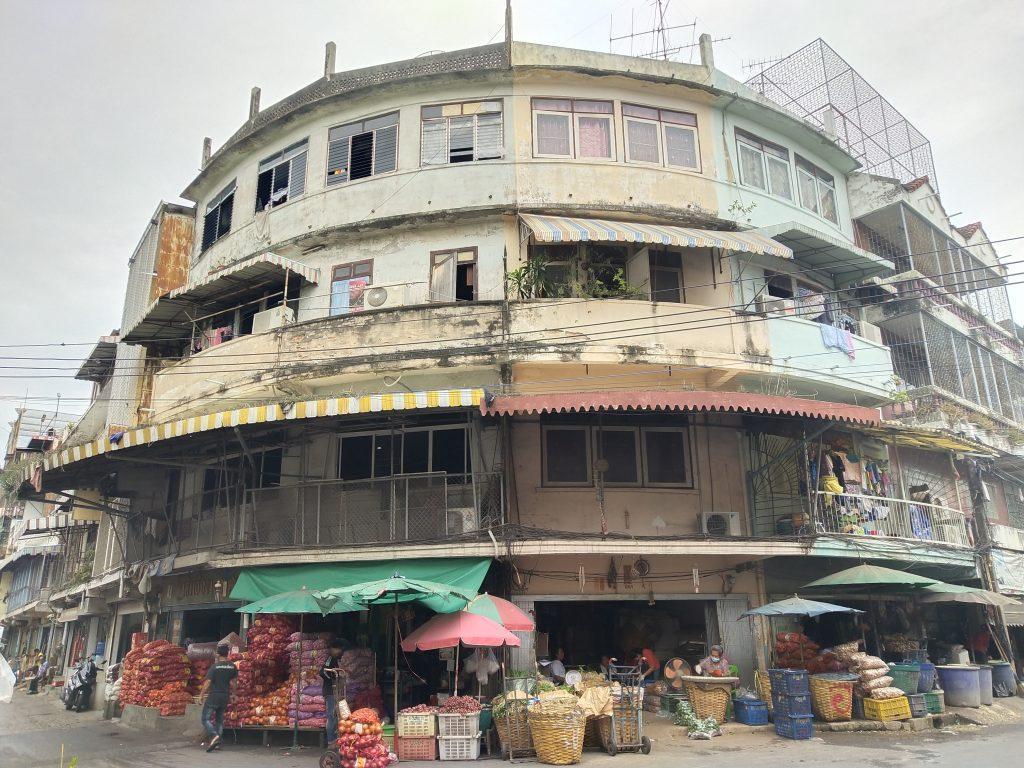 There are mainly vegetables and fruits
2. Yodpiman Flower Market, which belongs to the private sector. It was found in 1961, located next to the first market only one block building. There is mainly the wholesale flower market. Interesting to see how they transform the flowers into special arrangements that can be used as offerings at the temple.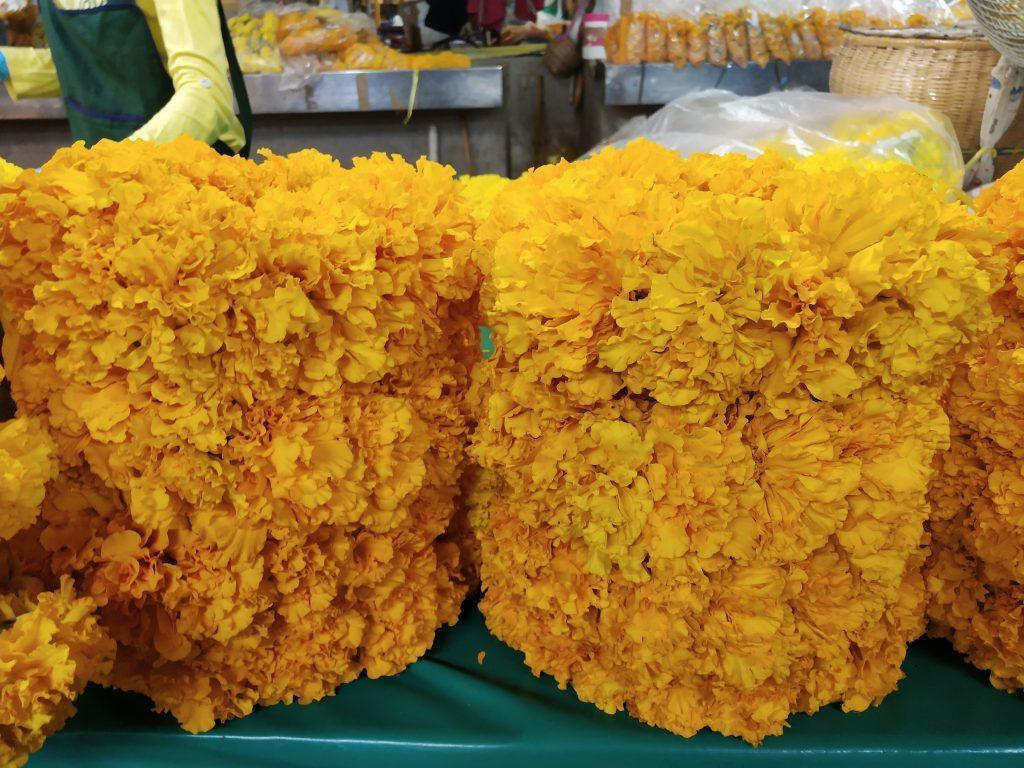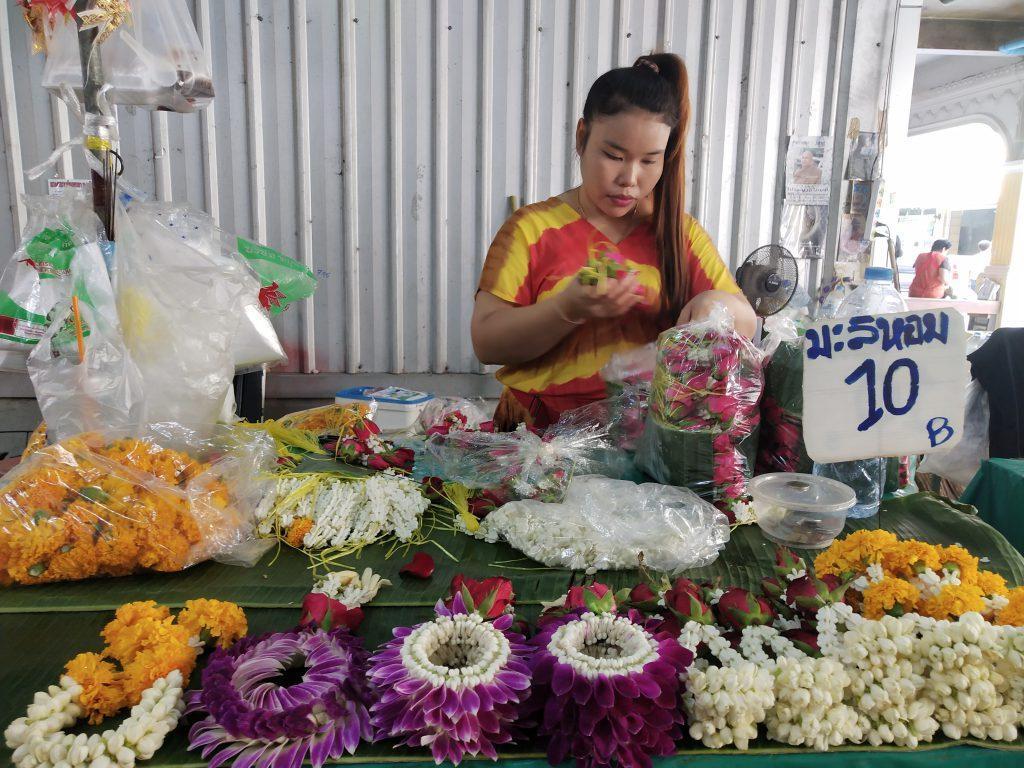 Learning by doing, Yodpiman Market is not only selling flower but some of Garland shop offer for customer to learn how to do Garland by your self.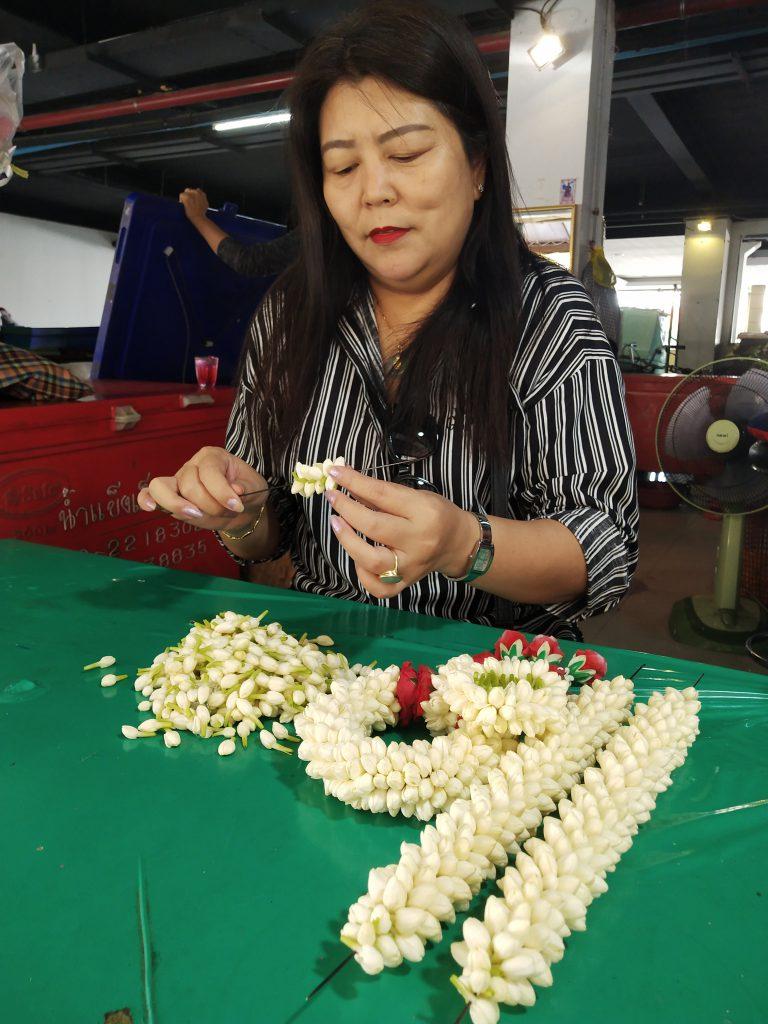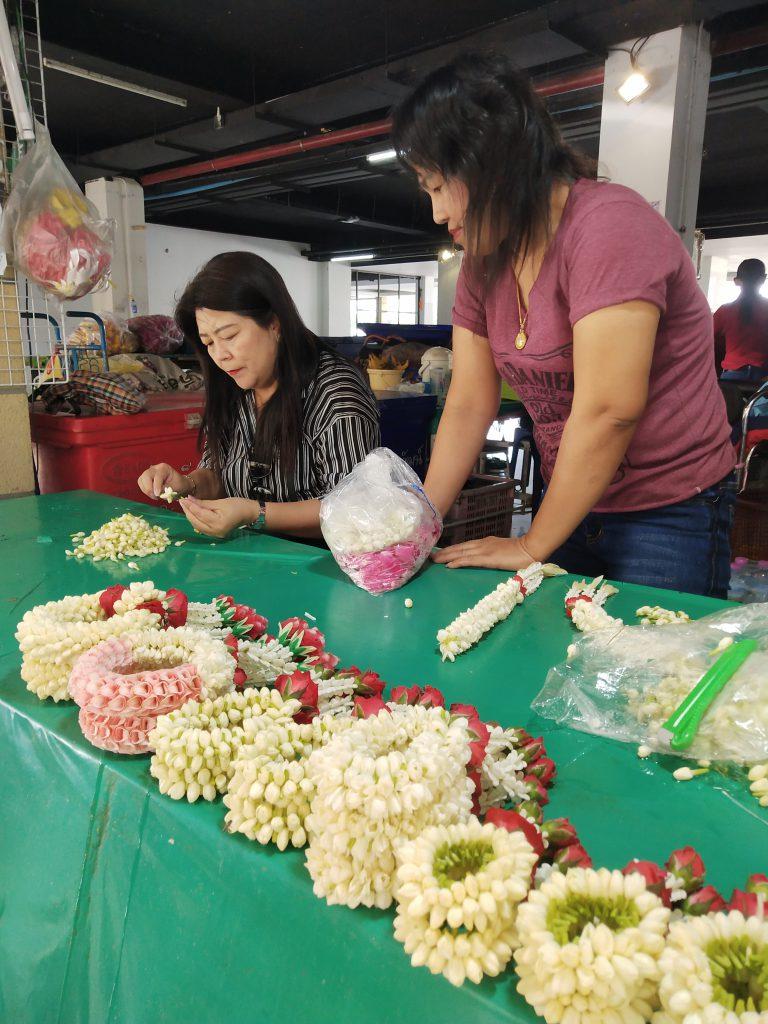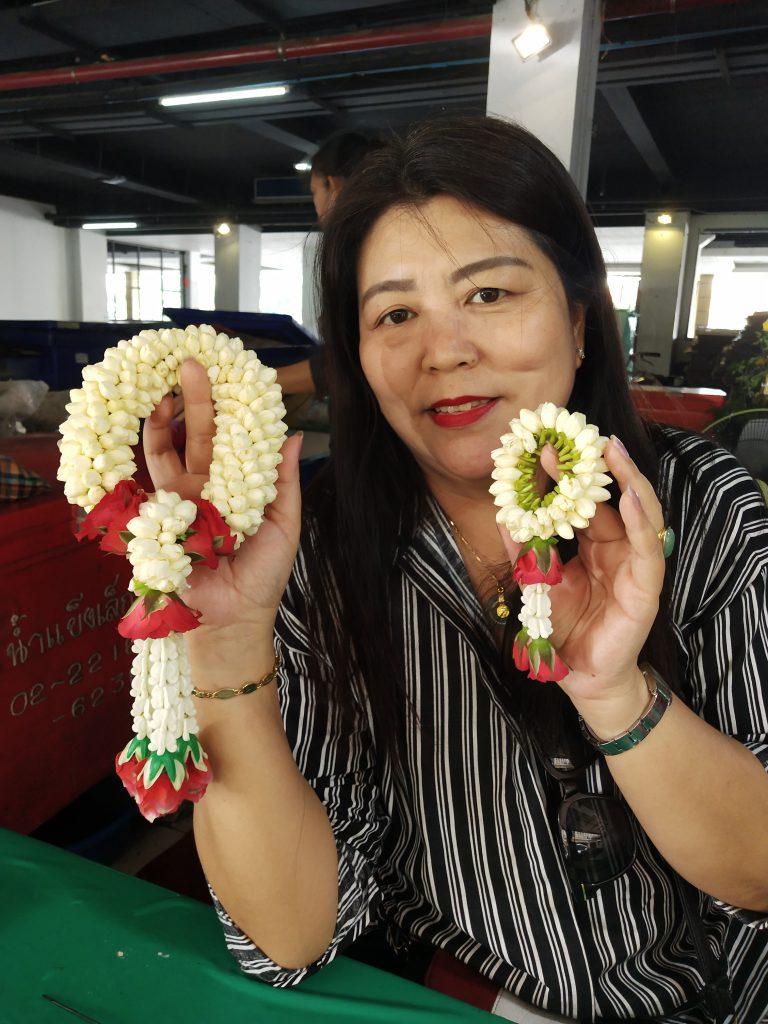 3. ICP flower market, which also belongs to the private sector. It was found in 1973, located opposite the Yod Pimarn market. There are mainly vegetables, fresh – dried flowers, plastic flower.
4. Buddha Yotfa or Saphan Phut market which occurred since the last 20 years and was closed in late 2016.
Pak Khlong Talat market is at the fourth rank from top ten flower market around the world. It is also the third biggest orchid flower market in the world. There is every kind of flowers both planted in Thailand and imported. These flowers are sold at low prices such as Holland roses, classic pinks, lisianthuses, lilies, tulips, and orchids. Moreover, there are flower arrangement service and flower arrangement equipment for sale. There are minor ornamental flowers used in a vase or bouquet, colorful papers, and bows. Therefore this is also a center where flowers are sold at retail and wholesale price at 24 hrs. The owner of the flower arrangement shop all over the country will come to select the most beautiful flowers, buy them at the wholesale price before selling them separately in shop branches.
First, you can take bus number 2, 3, 12, 53, 60, 73, 73Kor and 82. You can visit here by boat which you can enjoy the romantic view and the beauty of Chao Phraya River. You can get on the boat at Chao Phraya High-speed Boat company at Ratcha Singkhorn temple – Nonthaburi route at Saphan Phut pier. Then, you can easily walk to Pak Khlong Talat market. For those who love beautiful flowers and would like to see the colors of various flowers and the charming atmosphere of Chao Phraya River, or Join "Bangkok Walking Hopping Team" they will be waiting for the tourist every day at Sathorn Pier around 07.30, 8.30, 09.30 am. or Yod Piman Pier at 08.10, 09.10, 10.10 am. Pak Khlong Talat market is another attraction you should not miss.
More about Bangkok Walking Hopping Team visit at www.bangkokwalkinghopping.com 
Credit: Guide Judy: 12 years experience of tourist guide
Information support: www.tourismthailand.org